By Al Goodman
CNN Madrid Bureau Chief





(CNN) -- American cyclist Lance Armstrong suffered a shattering blow in his comeback bid on Monday when he broke his right collarbone after falling on the first stage of a five-day race in northern Spain.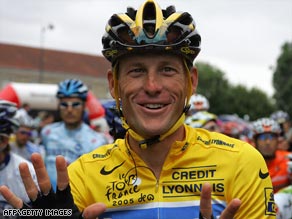 American Armstrong was competing in Spain to regain full race fitness after coming out of retirement.
Emerging from a hospital with his arm in a sling, Armstrong said he will return to the United States, where doctors will determine whether he needs surgery.
"I'm miserable," said the record seven-time Tour de France champion. "I just need to relax a couple of days and then make a plan."
Astana rider Armstrong crashed about 16 kilometers (10 miles) from the end of the 168-km stage and later said it was the first time he had suffered such an injury in his 17 years as professional.
"It's pretty painful," he said. "Just wait and see how it heals."
The crash took down several riders but Armstrong appeared to be the only one injured.
"That's cycling," he said. "It's nobody's fault. Crashes happen all the time."
As they came within a few miles of the finish, Armstrong said, racers started picking up speed and jockeying for position.

Watch more about the crash »
"It happens quick when it happens," he said. "It could have been worse."
Armstrong could be out for three to four weeks said Jacinto Vidarte, spokesman for the Vuelta Ciclista Castilla y Leon race.
The injury looks certain to end Armstrong's hopes of challenging for the Giro d'Italia from May 9-31 -- he admitted race plans are now "problematic" --and must cast doubts on his ambition of winning an eighth Tour crown from July 4-26 in France.
The 37-year-old Armstrong, who was taken to Clinico Universitario Hospital in Valladolid, was seen pointing to his collarbone as he sat by the roadside after the accident.
A group of 15 to 20 riders fell, according to Bartosz Huzarski, a cyclist racing for the Italian team ISD. Huzarski, who saw the fall, said he did not know what had caused it. Only Armstrong appeared to indicate he was hurt, the Polish cyclist said.
One of Armstrong's teammates told velonews.com that he did not see the crash but that the accident happened on a tough patch of road.
"I was in the front," Levi Leipheimer told Velonews, a journal of competitive cycling. "It was on really narrow, bumpy roads. It was a pretty bad road, super-rough and narrow. The edges were deteriorating, with cracks and parts missing, It was worse than typical [Spanish roads]."
Armstrong came out of retirement after more than three years to return to competitive cycling in January.
This was his first race alongside Alberto Contador, a Spaniard who won the Tour de France in 2007, two years after Armstrong's last event victory.
But Armstrong denied there was any friction with Contador, who is also riding for Astana.
"I have to respect the current results and he's the best there is right now. Until that changes, he's the leader," Armstrong told CNN before the accident.
Armstrong recently said Contador "still has a lot to learn," but the Spaniard shrugged it off.
"Anyone can say what they like during the race, but I'm not at all nervous," Contador said.
The fall took place a on a beautiful sunny day on a stretch of two-lane highway, Goodman said.
Armstrong's first comeback came in 1998, two years after he was diagnosed with advanced testicular cancer that had spread to his lungs and brain. Doctors gave him a less than 50 percent chance of survival.
He has become a highly visible cancer activist at the head of his Livestrong foundation.
Armstrong, whose Tour triumphs came between 1999-2005, announced in September last year that he would be returning to the saddle.
He launched his comeback in January when he raced in the Tour Down Under in Australia, finishing 29th.
Armstrong then played a key support role as Leipheimer won the Tour of California title in February before finishing 125th in last Saturday's Milan-San Remo in Italy.
He was riding in this week's Castilla and Leon race to continue his bid to reach peak form ahead of the Giro and then the Tour.
Armstrong returned to the sport not only to attempt to become the oldest Tour winner, but also to raise awareness about cancer.

"The most important issue is taking the global epidemic of cancer really to a much bigger stage," explained Armstrong, who previously fought a battle with testicular cancer.
"The best way to do that is to race the bike all over the world. So you race in Australia, South Africa, South America, Europe, America -- that is the first priority," added the Texan.
E-mail to a friend

All About Lance Armstrong • Spain