(CNN) -- France have made four changes to their team for Saturday's final Six Nations rugby clash against Italy in Rome.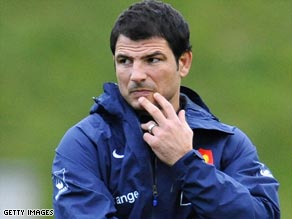 France coach Marc Lievremont has plenty on his mind after the poor performance against England on Sunday.
Damien Traille, who will play at full-back, and center Florian Fritz return to the starting line-up behind the scrum, while forwards Julien Bonnaire and Fabien Barcella are also back in the line-up.
Julien Malzieu, Mathieu Bastareaud, Jerome Thion and Lionel Faure are the men to drop out, with prop Faure not even making the bench.
Sebastien Chabal returns to the second row having played at flanker in the 34-10 defeat to England on Sunday that ruined France's hopes of claiming their fourth Six Nations title in six years.
Scrum-half Frederic Michalak and hooker William Servat, called up on Monday as injury replacements for Sebastien Tillous-Borde and Benjamin Kayser, are on the bench.
The other positional change sees Maxime Medard move to the right wing, in place of Malzieu, to accommodate the return of Traille at full-back.
Don't Miss
Traille, who has been in fine form for Biarritz of late and impressed as a substitute against England, has played just twice before at full-back for his country.
Head coach Marc Lievremont admitted he was still in shock at Les Bleus' no-show last weekend. "There were things that happened that I still can't explain," he told PA Sport.
"The main disappointment was our lack of physicality. Up front, apart from Dimitri Szarzewski and Thierry Dusautoir who were irreproachable even though they lost some balls, the players just weren't at their level.
"We have gone with the same squad, they have a great chance to wash away what happened at Twickenham. We are keeping our confidence in them and we hope they are going to react."
E-mail to a friend