(CNN) -- England coach Martin Johnson has named an unchanged side to play Scotland in Saturday's Six Nations rugby finale at Twickenham despite concerns over fly-half Toby Flood and flanker Joe Worsley.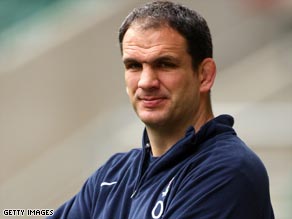 Martin Johnson has picked the same side that thrashed France for Saaturday's clash with Scotland.
Flood damaged his shoulder just before half-time in England's 34-10 victory over France on Sunday and Worsley required six stitches to a nasty gash to his hand.
Johnson had placed Olly Barkley and Tom Rees on standby earlier in the week as the pair continued to receive treatment but eventually named the same starting squad which breathed life into England's campaign last weekend.
Worsley and Flood took only a limited part in training on Ruesday but Johnson is comfortable both players will be ready to face Scotland.
"We are confident both Joe and Toby will be fit," he told PA Sport. "It is a short week but when you win it makes things easier.
"We have not been able to train too much this week but the session went well this morning and we are confident they will be fit."
The last time England fielded the same 22 in consecutive Tests was against Australia and France in the quarterfinals and semifinals of the 2007 World Cup.
E-mail to a friend