(CNN) -- Former world champion Fernando Alonso has warned that governing body FIA risks alienating fans of Formula One in the wake of sweeping changes announced on Tuesday.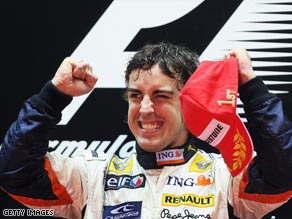 Alonso has voiced his disquiet over the latest sweeping rule changes brought in by governing body FIA.
The FIA's World Motor Sport Council has ruled that from this season onwards the drivers' title will be decided by race wins rather than points, while in a separate move the FIA decreed that from 2010 teams would be given the option of adhering to a budget cap of £30 million ($42m).
The moves have already prompted criticism from the Formula One Teams' Association (FOTA), who have accused the FIA of acting "unilaterally" in their rejection of both FOTA's own proposal to revise the points structure in F1 and their plans to reduce costs in the sport by 50 per cent from 2010.
Alonso, who won the drivers' title with Renault in 2005 and 2006, has joined the chorus of disquiet over the FIA's actions, calling for the budget cap rules in particular to be "reconsidered".
"I don't understand the need to constantly change the rules of this sport," the Spaniard wrote on his personal Web site.
Don't Miss
"I think that these types of decisions can only confuse the fans. Formula One has developed for more than 50 years thanks to the teams, the sponsors, the drivers and, above all, the fans throughout the world, and none of them have been able to put their points of view in front of the FIA.
"I'm concerned not so much about the decisions that will affect the season which is about to start but, above all, those that will affect the future of the competition in the coming years."
E-mail to a friend