(CNN) -- Oscar Pistorius will compete at the Paralympic World Cup in Manchester in May after recovering from a boating accident in South Africa.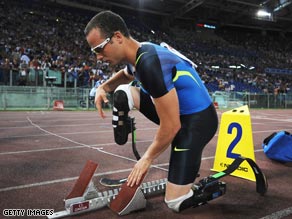 Pistorius has declared himself fit to compete in Manchester after recovering from his boating accident.
Double amputee Pistorius, known as Blade Runner because of running blades he uses to compete in, suffered head and facial injuries in an accident on the Vaal River near Johannesburg on February 21.
However, The 22-year-old South African will compete in the 100 meters and 400 meters at the Manchester Regional Arena.
"I am recovering very well from the accident, better than anticipated," Pistorius told PA Sport. "If everything keeps on going at this rate I will be at full strength at the BT Paralympic World Cup.
"This competition is vital in my preparation and it gives me that vital indication as to where I am lying in my season and my ranking amongst other top athletes," he added.
E-mail to a friend