(CNN) -- Citroen's Sebastien Loeb cruised to victory in Cyprus to record his 50th World Rally Championship win -- his third from three rounds this season.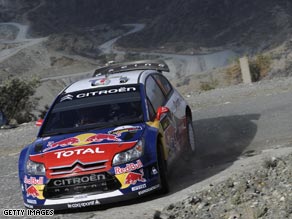 Loeb was at his dominant best on his way to becoming the first driver to win 50 rallies in Cyprus.
The Frenchman laid the foundations for his landmark success -- he is the first driver in history to reach 50 wins -- with a stunning display on Friday that saw him open up a 41.8 second lead with five stage wins from the opening six tests.
The five-time world champion entered the final day with a lead of 49.8 seconds over Ford's Mikko Hirvonen and he was able to run a steady pace through Sunday's final three stages, losing 17.1 seconds to Finn Hirvonen on the event's penultimate stage, to eventually take victory by 27.2 seconds.
The Frenchman was delighted to have made history as he extended his lead over Hirvonen in the drivers' standings to eight points.
"It's incredible. I remember when I beat the record number of wins of Carlos Sainz and Colin McRae," Loeb told PA Sport.
"Now 50 is a really a big number, a nice number. I'm really happy with what we are achieving at the moment, but it's not finished, we're not stopping yet."
Hirvonen, meanwhile, acknowledged that it had been another frustrating event for Ford, but the Finn is hopeful that he and his team can hit back at the next round of the series in Portugal after showing improved pace when the rally moved onto gravel surfaces during the second and third days.
Don't Miss
"I think we lost it on Friday," said Hirvonen. "At least we managed to take some time back on these two days. If it had been dry, it might have been different. We are definitely a lot faster on gravel now so hopefully we can have a good fight in Portugal."
The result of the day belonged to Sweden's Petter Solberg, who took a superb third place in his 2006-spec Citroen Xsara.
The 2003 world champion had lost his drive when Subaru pulled out of the championship over the winter due to the global economic crisis, but is racing as a privateer in selected events this season.
Solberg was handed third place when Citroen opted to slow Dani Sordo's pace and allow Solberg through as the Norwegian is not eligible to score manufacturers' points for the French marque and was not a threat to Sordo's points haul for the team.
E-mail to a friend