(CNN) -- Finland's Tanja Poutiainen finished second in the women's giant slalom at the World Cup finals in Are, Sweden, a result that proved enough to give her the discipline's crystal globe.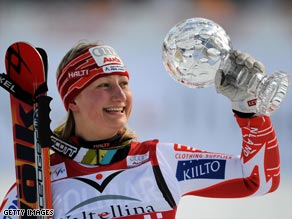 Poutiainen overturned a 41-point deficit to win the crystal globe as the top women's giant slalom skier this season.
The final giant slalom of the season was won by Slovenian Tina Maze in a time of two minutes 26.41 seconds, 1.12 seconds ahead of Poutiainen, with Italian Manuela Moelgg a further 0.27 seconds adrift in third position.
Poutiainen went into the final race 41 points behind discipline leader Kathrin Zettel, but the Austrian finished down in eighth position, 2.23 seconds behind the winner.
That result enabled Poutiainen, a double bronze medallist in the world championships at Val d'Isere last month, to overturn that deficit to finish seven points ahead of Zettel on 508 points.
In the overall standings, American champion Lindsey Vonn, Germany's Maria Riesch and Sweden's Anja Paerson remained unaffected on 1788, 1404 and 1059 points respectively.
However, Zettel's 32 points from the giant slalom moved her up to fourth place overall on 1046 points, with Poutiainen in fifth on 914 and Maze in sixth a further 62 points adrift.
E-mail to a friend