(CNN) -- Austria's Benjamin Raich won the giant slalom at the World Cup finals in Are on Friday to close on the overall title ahead of the final race of the season.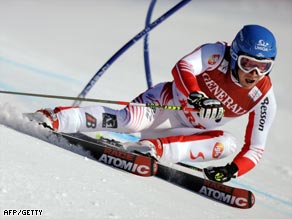 Raich powers his way down the Olympia course on the way to victory.
Raich's victory leaves him just two points behind overall leader Aksel Lund Svindal with only a slalom on Saturday remaining.
Svindal, who finished 19th in the giant slalom, has not scored a point all season in slalom while Raich is the reigning Olympic champion through the gates and would be expected to score heavily.
But Svindal, who competed with a heavy cold, did perform above expectation in the slalom leg as he took the super-combined title at the recent world championships in Val d'Isere.
Switzerland's Didier Cuche finished third behind Raich on Friday to clinch the overall World Cup honors in the discipline. Raich finished second just 12 points adrift.
Cuche has a mathematical chance of overhauling both Svindal and Raich in the overall battle, but again has no pedigree in slalom.
"To find myself in a position to win the big globe after such an up and down season is unbelievable especially as the course was very hard today and the conditions extreme," Raich told Reuters.com.
Raich, who won the overall crown in 2006, recorded an overall time of two minutes 18.95 seconds for his two runs down the Olympia piste.
Ted Ligety of the United States, last season's overall giant slalom champion, was 0.13 behind in second place with veteran Cuche in third, 0.71 adrift.
In women's racing at the finals, Sandrine Aubert of France won the season-closing women's slalom.
She clocked a combined time of one minute 49.23 seconds for two legs to beat Germany's Fanny Chmelar by just six hundredths of a second.
Home skier Therese Borssen and Czech Sarka Zahrobska shared third place 0.23sec behind.
German Maria Riesch, the overall champion in the slalom, could only finish fifth while Lindsey Vonn' s winning run at the finals came to an abrupt end as she finished 18th.
E-mail to a friend