By Laura Westbrook
For CNN





DUBAI, United Arab Emirates (CNN) -- Just stepping into the stadium you can feel the electric atmosphere. Die-hard rugby fan or not, it is thrilling. Tens of thousands of people who have journeyed into the desert to see history being made are in full voice.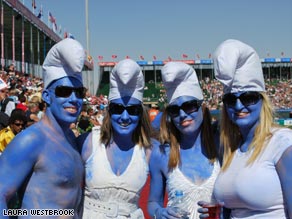 Rugby fans get into the party spirit by dressing up - this time as smurfs.
Last week's IRB Rugby Sevens World Cup in Dubai lived up to the sport's unpredictable reputation, with surprises and upsets at every turn.
The 78,000 people who ignored the global credit crunch to attend were well rewarded, with Wales lifting the Melrose Cup for the first time.
They had never reached a final in any Sevens international rugby tournament but the young squad, who have only been together for two years, can now add their names to the list of English, New Zealand and Fijian stars who have won the world cup in the shortened version of the game.
But Sevens, which is bidding for inclusion in the 2016 Olympics, is as much about the spectacle as the play. Dubai did not disappoint.
Rugby Sevens has seven players per side compared to the standard 15 in traditional rugby, and is played over two halves of seven minutes apiece as opposed to 40 minutes per half in traditional matches. As a result a Sevens tournament can be played in just a few days, while traditional rugby tournaments may last a month.
The result is a fast-paced game that witnesses frequent upsets and a sport that prides itself on creating a party atmosphere.
In Dubai, fans dressed as Smurfs, British guards, cavemen and Umpa Lumpas -- the little orange men from "Charlie and the Chocolate Factory."
Standing by the sidelines wearing my Hong Kong rugby shirt and euphorically cheering on my home team when they scored their only try against England was an amazing experience.
"Sevens rugby is a sport in which any country can become good at, any country can play against the big boys such as New Zealand, England," said Hong Kong player John Gbenda-Charles. "Playing in a Sevens World Cup is a dream come true."
The spectacular opening ceremony came to life with dancers, acrobats, balloons and, yes, camels.
The stadium's design -- with its wide walkway between the stands and pitch -- gave the tournament a relaxed feel, allowing people to stand on the sidelines as opposed to being kept at a distance in the stands. Fans were so close they could almost touch the players. The informal atmosphere also led many families to bring along their children to enjoy the event.
Every upset at last week's tournament was ferociously cheered. Kenya shocked Fiji -- regularly winners on the Sevens circuit -- in the quarterfinals as the vocal crowd pushed them to hold on. Their own fans danced in T-shirts with the image of U.S. President Barack Obama.
The event was broadcast to a record 200 hundred countries, with women's teams included in the world cup for the first time. The women's final featured a showdown between traditional rugby nations New Zealand and Australia. Overtime was needed for Australia to claim victory.
It is the sport's reputation for fun, entertainment and growing reach which supporters point to as they aspire for Olympic recognition. Sevens is competing against baseball, softball, golf, karate, squash and roller-sports for one of two new spots at the 2016 games, and IRB chairman Bernard Lapasset believes it has an edge.
"Having the likes of Thailand, Brazil, China and Uganda competing with New Zealand, England, Spain and France in a Rugby World Cup Sevens tournament is a very exciting development for the game," Lapasset said, according to a report to the international rugby board (IRB).

Zheng Hongjun, coach of the Chinese women's side which won the bowl (a secondary prize in the women's competition), said their victory was a breakthrough for them and the sport.
"It is very important because rugby is not as popular as other sports such as table tennis and Olympic sports," Zheng said on the IRB's Web site.
E-mail to a friend