(CNN) -- Jenson Button has given the thumbs up to the new Brawn GP car which impressed in its first test session at Barcelona's Circuit de Catalunya ahead of the Formula One season.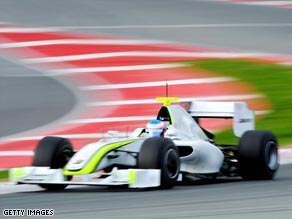 Button puts the new Brawn GP car through its paces in Barcelona.
The British driver has struggled in an uncompetitive Honda car for the past two seasons but has immediately noticed the difference.
"I much prefer the feel of the car now than the way it was last year," he told the Press Association.
"I can feel the car and the road a lot more with this car than with previous cars, which is great -- and it's only going to get better."
Former Ferrari technical guru Ross Brawn led a management buyout after Honda withdrew its backing at the end of last year, saving the team and several hundred jobs at its Brackley headquarters in England.
Button and teammate Rubens Barrichello spent the winter fearing their Formula One careers could be at an end, but is now relieved to be back at the wheel.
"It's been a pretty stressful winter, not just for myself but the whole team, so it was great to be driving again," said the 29-year-old
"It was nice at Silverstone on Friday at the shakedown as most of the team were able to come down and see us doing a few laps. It was a very emotional day for us."
Button topped the timesheets in Barcelona on Monday morning and by the end of the day was fourth fastest behind drivers from BMW Sauber, Ferrari and Toyota, all teams that had been testing for over two months.
But it will be a race against time for the re-branded team ahead of the season's start in Australia on March 29 although Button completed an encouraging 82 laps ahead of further testing next week.
E-mail to a friend