(CNN) -- Overall World Cup leader Lindsey Vonn crashed out in the second leg as France's Sandrine Aubert opened her World Cup account with victory in the women's slalom in Ofterschwang, Germany, on Saturday.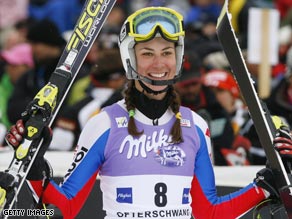 Aubert claimed France's first women's slalom victory for seven years after Lindsey Vonn crashed out.
Vonn, who had posted the fastest first leg time, clipped a gate with her right ski at the bottom of her second run when in sight of victory.
Kathrin Zettel of Austria, who won the slalom here on Friday, was second after the first run but suffered the same fate as Vonn and failed to finish after clipping a gate on her second time down.
This allowed Aubert, who was third after the first run, to secure France's first slalom win since 2002 by 0.43 seconds from Sweden's Frida Hansdotter, with Nicole Hosp of Austria back in third.
Home favorite Maria Riesch finished fifth, a result which proved enough for the German to clinch victory in the discipline standings.
Despite her setback on Saturday, Vonn still has a commanding overall lead with just four events remaining at next week's World Cup finals in Are, Sweden.
Vonn leads Riesch overall by 369 points, with 400 points at stake, and only an unlikely series of events will stop the American from claiming overall victory.
Don't Miss
Meanwhile, Austria's Klaus Kroll claimed his first men's downhill victory, beating compatriot Michael Walchhofer in Kvitfjell, Norway. Manuel Osborne-Paradis of Canada finished third.
On a shortened course, due to overnight snow, Kroll picked up his second World Cup success after opening his account at Kitzbuhel in January in the super-G. Meanwhile, Osborne-Paradis was continuing his good form after capturing Friday's downhill.
The race for the overall men's World Cup title remains tight with the lead being shared by Croatia's Ivica Kostelic and Austrian Benjamin Raich, who both failed to figure here. Raich was disqualified while Kostelic was outside the points in 32nd place.
This pair are only eight points ahead of Norway's Aksel Lund Svindal, who was 13th on Saturday, with Swiss Didier Cuche 74 points behind prior to Sunday's super-G.
E-mail to a friend