(CNN) -- Paul Collingwood hit a ninth Test hundred to help England regain control of their must-win fifth Test against West Indies at Queen's Park Oval, Trinidad where the tourists declared their first innings at 546 for six wickets.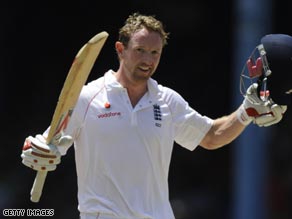 Collingwood hit his ninth Test hundred as England continued to rack up the runs in Trinidad.
Collingwood hit 161 and wicketkeeper Matt Prior a Test-best unbeaten 131 to leave West Indies requiring 347 to avoid the follow-on.
Spinner Monty Panesar made the breakthrough for England in his first over with a delivery that outfoxed Devon Smith.
But West Indies closed on 92 for one following a typically aggressive display by skipper Chris Gayle who was unbeaten on 49.
Collingwood, however, reckons the pitch will eventually aid England's victory push.
"The last two wickets haven't deteriorated too much, going into days four and five hasn't meant much," he told Sky Sports 1. "But this one seems drier, there are more cracks and hopefully it will deteriorate more.
"We've just got to go out there and do the job. The pitch held together pretty well today but there's a hell of a long way to go in this Test match and we're going to see a bit more reverse swing."
Two wickets in consecutive overs in the morning, including centurion Andrew Strauss, undermined England's overnight position.
West Indies, needing to avoid defeat to seal a first series success in five years, took the second new ball first thing, having opted to delay it through 10 overs on Friday, and the decision paid dividends.
Skipper Strauss added only three to his overnight score and Owais Shah, returning to the crease after cramp forced him to retire hurt on the first afternoon, also departed, both to errors of judgment.
Don't Miss
Strauss fell for 142 when he shuffled to the off-side to an attempt a glance off his pads, missed and lost his leg-stump to Fidel Edwards.
Then Shah, who settled back in by straight-driving his second ball for four off Lionel Baker, was run out attempting a quick single from his third.
Collingwood reached his third Test hundred of the winter in the final over before lunch after previously being upstaged by Prior who raced to a half-century from 52 balls on his return to action after quitting the tour for paternity leave.
It took an umpiring challenge to oust Collingwood and halt a 218-run stand just before tea after Russell Tiffin initially turned down a leg-before appeal from Lionel Baker.
Prior earlier celebrated his second Test hundred, which arrived via a cut for two off spinner Ryan Hinds in the 144th over of the innings, by making a cradling gesture, in recognition of his newborn son Johnathan.
E-mail to a friend