(CNN) -- The former Honda team will race in Formula One this season after a successful management buyout led by Ross Brawn.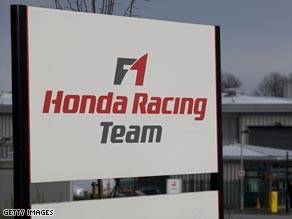 The Honda Racing team at its Northampton HQ has been saved for this season.
The team will race as Brawn GP, securing a deal with Mercedes for the supply of engines.
Britain's Jenson Button and Brazilian veteran Rubens Barrichello will remain as the team's drivers, with Bruno Senna, as was widely expected, left on the sidelines.
Senna, the nephew of the legendary Ayrton Senna, had been expected to secure a drive in the upcoming season, but Brawn has opted for the greater experience of Barrichello with little time for testing with the opening Grand Prix in Australia at the end of the month.
The future of the English-based outfit had been in the balance since Japanese car manufacturer Honda sent shockwaves through F1 by withdrawing its support in the economic downturn.
"The past few months have been extremely challenging for the team but today's announcement is the very pleasing conclusion to the strenuous efforts that have been made to secure its future," Brawn told Press Association. "It is a great shame that having worked with Honda Motor Company for so long we can no longer continue together," he added.
Brawn, who forged his reputation as Ferrari's technical guru for over a decade, said he was delighted to keep the same driver combination as last season with Button reported to have taken a big pay cut.
"The vast experience and knowledge that both drivers bring to our team will prove invaluable as we aim to get up to speed in the shortest possible time to be ready for the first race in Melbourne on March 29."
Senna, who test drove for the team in the off-season while its future was being ironed out, learned of his fate at the start of the week.
E-mail to a friend