(CNN) -- Pakistan cricket chief Ijaz Butt has vowed to make a complaint to the International Cricket Council after reacting angrily to claims made by match referee Chris Broad and Sri Lanka spinner Muttiah Muralitharan about the terror attack in Lahore.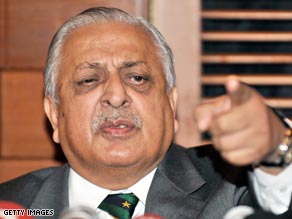 Ijaz Butt is unhappy with comments made by Chris Broad and Muttiah Muralitharan regarding the Lahore shootings.
Former England opener Broad and Muralitharan have spoken critically about the safety measures that were put in place as players and officials travelled to the Gaddafi Stadium for the third day of the second Test, with Butt dismissing their testimony as "untrue" and "fabricated".
Both parties were caught in crossfire in an attack which saw six policemen lose their lives, local umpire Ahsan Raza sustain a bullet wound to the stomach and seven of the touring Sri Lanka squad left injured, although none seriously.
Broad, who emerged shaken but physically unscathed from the ambush, said that a promise of "presidential-style" security in reality left them like "sitting ducks".
Muralitharan, meanwhile, has queried whether the security detail offered to his team were properly trained.
Don't Miss
But PCB chairman Butt has dismissed their comments out of hand. "Match referee Chris Broad's statement is fabricated," he said at a news conference. "There was no change in the level of security. I will lodge a complaint with the ICC against his (Broad's) statement.
"Muralitharan's allegations that there weren't any security personnel travelling with the team bus is also untrue.
"This is an unfortunate incident and policemen have lost their lives. People who escaped the tragedy without even a scratch should not be pointing fingers at the same security men who died saving them."
He added: "Security is a specialised task so we leave it to the security forces. It is the responsibility of the government and our involvement is limited. This is the practice everywhere in the world and with all the other boards."
The ICC had yet to receive a formal complaint at the time of Butt's words but what was already due to be an intense meeting of the ICC board in Dubai next month could now be increasingly fraught.
Safety initiatives, anti-terror measures and, indeed, the mid-term future of international cricket in Pakistan, were sure to be up for discussion anyway but now the PCB may choose to air some of their own grievances about the aftermath.
E-mail to a friend