(CNN) -- Quadruple Olympic gold medalist Chris Hoy has withdrawn from cycling's World Championships after failing to fully recover following a high-speed crash last month.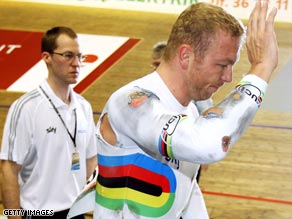 Olympic champion Hoy has waved goodbye to his world medal hopes following, above, his crash in Copenhagen.
The 32-year-old Briton suffered bad bruising and a hip injury when he fell at more than 40mph in the final of the keirin at the Copenhagen leg of the World Cup.
Hoy was a big favorite to retain his keirin and sprint titles at the championships in Pruzkow, Poland, from March 25 to 29
"I'm hugely disappointed that I'm not going to be riding in the worlds," he said. "I've been really lucky in my career so far and this is the first time I've had to miss a major championship event due to injury.
"I'm glad it didn't happen this time last year and I'm still totally focused on being in the best shape possible for London 2012.
"This doesn't affect my long-term aim of defending my titles and I'll hopefully be back in training and competition in the near future. I wish the team the best of luck in Poland."
Hoy called his spill one of the worst of his career and has been advised by the British Cycling team doctor to stop training and allow his hip to heal properly and to avoid further damage.
Dr Roger Palfreeman said: "This type of injury is quite serious and pretty rare. It's called a degloving injury and it's when the skin and the underlying tissue and fat get separated from the underlying muscle.
"The tissues are not bound down as they should be, which has created a space for fluid to collect in.
"The fluid can be drained off, but every time Chris exercises or gets on his bike, the tissues are tearing again and the fluid's coming back in to that space.
"He needs to give himself a decent amount of time to let the injury heal, which is why we've advised him not to compete in the Worlds."
E-mail to a friend