(CNN) -- Top seed Novak Djokovic recovered from the loss of the opening set to reach the final of the Dubai Open in scorching heat on Friday.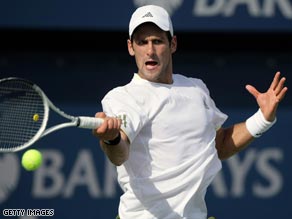 Djokovic withstood intense heat and the challenge of Gilles Simon to reach the final of the Dubai Open.
The world number three recovered from an early setback to defeat third-seeded Frenchman Gilles Simon 3-6 7-5 7-5 in searing temperatures that exceeded 36 degrees celsius.
"I think I fought my way through in the match. I really believed until the end and mentally this is a very important win for me," Djokovic told the official ATP Web site after his two hour, 44 minute victory.
"If I want to stay on top of the men's game, I have to win these matches because Simon is certainly one of the best players in the world," he added.
A disappointed Simon said: "I was just playing very badly, so even when I had opportunities I wasn't not able to do anything with them. I had several chances to break him in the second and third sets, but every time I just made a mistake."
Don't Miss
Serb Djokovic will face fourth seed David Ferrer in Saturday's final, after the Spaniard crushed unseeded Frenchman Richard Gasquet 6-2 6-2 in just 75 minutes.
Djokovic and Ferrer have tied their previous six meetings 3-3. Djokovic leads their hard-court meetings 3-1 and won their most recent clash in the 2008 Australian Open quarterfinals.
E-mail to a friend