(CNN) -- Hopes of rescuing the Honda Formula One team appear to be receding in a race against time before the start of the season in Australia on March 29.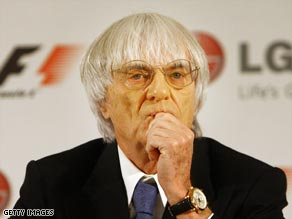 F1 supremo Ecclestone is working hard to ensure Honda take their place on the grid this season.
Honda surprisingly pulled out of F1 last December, but despite recent speculation of either a management buy out or a rescue by Richard Branson's Virgin business empire, bosses at the Japanese car giant are pessimistic about the future.
Takeo Fukui, the chief executive of Honda Motor Company, told a news conference on Monday that the prospects were bleak.
He said: "There are various offers for the team, but we have not seen any serious buyer yet.
"We find the sale process difficult."
Formula One supremo Bernie Ecclestone is growing increasingly frustrated about the failure to complete a deal which will save about 700 jobs at the Honda team's headquarters in Northampton, England -- including that of star driver Jenson Button.
Chief executive Nick Fry and team boss Ross Brawn are reported to be at the center of negotiations to take full control of the team, but Ecclestone is less than impressed.
"I tried to help with the management buy-out," said Ecclestone in the News of the World.
"They should have taken what I offered. It was a very good offer for everybody concerned.
"It gave them complete protection, but they wanted to do things on their own. "Now all we can do is hope and pray
Meanwhile the prospect of tycoon Richard Branson throwing his financial muscle behind the team is dependent on F1 having reduced costs and become more environmentally friendly.
Honda will have to rely on engines from Mercedes and the German manufacturers are understood to have set a deadline for guarantees their costs will be covered, making a viable rescue package all the more urgent.
The loss of the Honda team from F1 would represent a major blow to motorsport's elite category which is feeling the effects of the global economic downturn.
E-mail to a friend