(CNN) -- Venus Williams secured her 40th career title with a comfortable straight sets victory over unseeded Frenchwoman Virgine Razzano in the final of the Dubai Open on Saturday.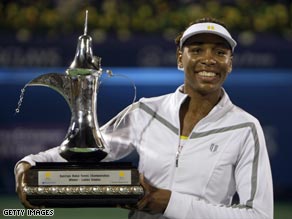 Venus Williams shows off the impressive Dubai Open trophy, the 40th title of her impressive career.
Williams took the title with a 6-4 6-2 victory, moving into the top five in the world rankings for the first time in six years in the process.
The last time the two players met, in Tokyo two years ago, Razzano saved three match points before going on to claim a surprise victory.
However, that result never looked likely to be repeated as Williams won a seventh WTA Tour title from her last eight finals.
"I have had a lot of struggles in this event in the past," Williams -- whose previous best result in Dubai was reaching the semifinals in 2002 -- told the official tournament Web site.
"Virgine plays well and she had a great game plan just to come out and attack. She would be in trouble if she let me control the point and I ended up playing a lot of defense.
"I'm used to people playing well against me. A lot of players I play do come out and go for broke, so I have to learn to be able to fight against that and to play the best shot I can.

Following her victory, Williams is already looking forward to returning next year to defend her title. "I think they do an excellent job with this tournament," she added.
"They really do care about making a great event and they do care about the players. There is a difference here. It makes you enjoy the tournament. It makes you want to come back. I would definitely love to defend my title next year."
E-mail to a friend