(CNN) -- Formula One supremo Bernie Ecclestone is talking up the chances of Richard Branson's Virgin Group taking over the beleaguered Honda team.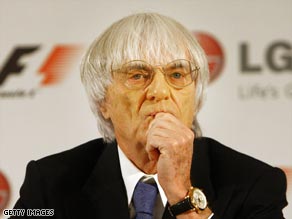 Ecclestone is keen for the Virgin Group to take over the Honda team prior to the start of the F1 season.
Japanese car giants Honda sent shockwaves through motorsport's elite category by pulling out at the end of last year, blaming rising costs and the economic downturn.
It left star drivers Jenson Button and Rubens Barrichello without a drive for the 2009 season while the franchise sought alternative backers.
Honda have confirmed Branson and his company as one of the potential buyers and Ecclestone is encouraging the deal.
"I've spoken to Richard's people about it. He would love to do it," Ecclestone was quoted in Friday's Guardian newspaper.
The team, which has largely remained intact with chief executive Nick Fry and principal Ross Brawn the leading figures, remains confident of a deal to be able to compete this year, but time is running short ahead of the season opener in Melbourne, Australia on March 29.
Ecclestone, who needs the likes of Honda to reinforce the F1 grid, is hoping British tycoon Branson can step in. "It would be super. We're working to try to make it happen," he added.
Billionaire tycoon Branson has been involved at the fringes of Formula One through personal sponsorships, but a fully-fledged team needs approximately $60 million to run per year despite new rules being introduced by motorsport's governing body the FIA to reduce costs.
E-mail to a friend