(CNN) -- Austrian Manfred Pranger won the men's slalom gold medal at the world skiing championships at Val d'Isere on Sunday, after watching his main rivals for victory crash out of contention one by one.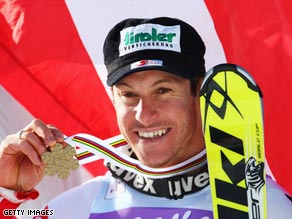 Pranger shows off his gold medal after claiming victory in an exciting men's slalom.
Pranger was quickest in the opening run, meaning he started the second run in 30th and final place on a tricky Bellevarde course that was re-watered overnight to make it extra icy.
The 31-year-old then watched as six of the top 10 crashed out, including home favorite Jean-Baptiste Grange, fellow-Austrian Benjamin Raich, American Ted Ligety, and Swedish duo Jens Byggmark and Johan Brolenius.
Pranger was able to negotiate the 64 gates of his second run without any major hitches, recording the seventh-quickest second leg time for an overall time of one minute, 44.14 seconds.
France's Julien Lizeroux finished 0.31 seconds behind Pranger with Canadian Michael Janyk claiming a surprise bronze medal a further 1.22 seconds adrift.
The result rescued a dismal championships for the much-hyped Austrian team, who have failed to shine at Val d'Isere with only a Raich silver medal in the giant slalom to show for their efforts.
E-mail to a friend