(CNN) -- Three-time San Jose champion Andy Roddick battled into the quarterfinals of the ATP tournament in California with a 6-3 7-6 win over Latvian Ernests Gulbis.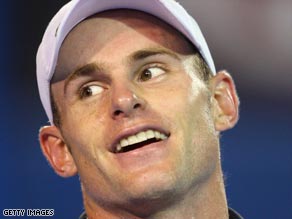 Three-time winner Roddick has made the San Jose tournament his own in recent years.
Top seed Roddick joined four other American players in the last eight, but was made to fight hard by the promising Gulbis before earning a clash with Germany's Tommy Haas.
A single break was enough for Roddick, back in action for the first time since the Australian Open, to take the first set. But the second was much closer with Gulbis forcing five break points before going down in a tiebreaker.
Argentine second seed Juan Martin del Potro stayed on track for a final match up with Roddick by also going through on Thursday.
He beat Japanese teenager Kei Nishikori 6-2 6-2 to earn a meeting with fifth seed Mardy Fish, who advanced with a 6-2 6-7 7-5 win over fellow-American John Isner.
Home hope and third seed James Blake is also through, beating France's Florent Serra 6-4 6-3. Next up for him will be a quarterfinal against sixth-seeded compatriot Sam Querrey, a 6-3 6-2 winner over Germany's Denis Gremelmayr.
Completing the five-strong U.S. contingent in the quarters was qualifier Todd Widom, who beat big-serving Taylor Dent 6-7 6-3 6-2.
E-mail to a friend