By Mike Steere
For CNN






LONDON, England (CNN) -- America's Cup holders Alinghi have reached the challenger final at the Louis Vuitton Pacific Series in Auckland, New Zealand, following a controversial round-robin incident.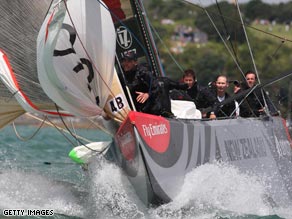 Alinghi in action during the Louis Vuitton Pacific Series in Auckland, New Zealand
Alinghi will face another challenger later this week for a place in the finals series with home syndicate Emirates Team New Zealand, which, as the host, automatically goes through to the final.
However, the Swiss syndicate's progression to the final hasn't come without controversy -- after the Brad Butterworth-led team "stood-up" Team New Zealand on Saturday.
Alinghi was scheduled to be racing the home syndicate, but opted not to show up for the race and left the New Zealanders on the water for several hours waiting.
Team New Zealand skipper Dean Barker was annoyed about the incident.
New Zealand's Stuff news web site reported that Barker said, "(Alinghi's) decision not to race is an insult...it's disappointing to the New Zealand public...it's completely disrespectul to us as a team and I'm really pissed off about it."
Butterworth, a New Zealander and former member of Team New Zealand, said the incident wasn't personal, but they simply decided to skip the race as challengers can not gain points by beating Team New Zealand in the round robin races - but they can lose them through penalties.
"I'm hoping to get to the final and race these guys," he said.
BMW Oracle, Italy's Luna Rossa and Great Britain's Team Origin are among the other syndicates vying for the second challenger final berth.
E-mail to a friend