By Mike Steere
For CNN






LONDON, England (CNN) -- As competitors fell away around him, Michel Desjoyeaux cruised to victory in the grueling solo round-the-world race, Vendee Globe.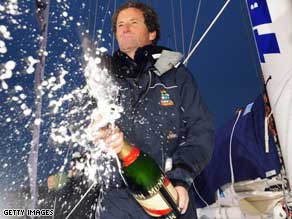 Celebration time: Michel Desjoyeaux sprays champagne after winning the Vendee Globe race.
Desjoyeaux crossed the finish line in his yacht Foncia after 84 days three hours and nine minutes at sea, smashing his own race record in the process. He covered more than 28,300 miles at an average speed of over 13 knots.
What is even more remarkable is that Desjoyeaux had to return to port early in the race and was at one point more than 40 hours behind his competitors.
Though the thirty entries to the 2008/2009 edition of the race was a record, the fleet was pounded by tough conditions from the start of the race. Eighteen skippers have been forced to abandon, and the other eleven are still racing.
Two exits occurred in dramatic circumstances. Yann Elies was evacuated off his yacht Generali when he sustained a broken leg while working on the boat's bow in December, while Jean Le Cam was rescued by a fellow competitor when he capsized off Cape Horn.
So through all of this, how did Desjoyeaux triumph so easily? And why is he so good?
Firstly, the 43-year-old is one of the most experienced solo yachtsmen around.
He previously won the Vendee Globe in 2000/2001, he has three times won the Figaro single-handed event, and has also claimed the 2002 Route du Rhum and the 2004 Transat races.
This victory in the Vendee Globe makes him the only sailor to have won the race twice.
Desjoyeaux, himself, admits that he cruised to this win.
"I still don't understand how I'm here like this. I just tried to sail my boat as well as I could .
"A race is won largely before it begins with experience and preparation. Eighty percent before, and 20% during the race by working hard.
"Didn't need to push too hard, wasn't stressed at any point, and it seemed very easy. Even 25th December with rudder problem I dealt with it. I didn't sit there worrying about it," Desjoyeaux said in an interview on the Vendee Globe web site.
It has been widely acknowledged that the Frenchman's great strength is his ability to plot the quickest and safest route, allowing him to avoid the problems suffered by many of the skippers in this event.
Fellow competitor Brian Thompson was quick to praise the magnitude of Desjoyeaux's achievement.
"He is a great champion, and in the world of sailing his talents in single handed racing are just as exceptional as those of Russell Coutts in the America's Cup and Ben Ainslie in the Olympic arena," he said.
Another competitor, Dee Caffari, said Desjoyeaux relaxed attitude helped him to this win, through tough circumstances.
"When he arrived in Les Sables d'Olonne he would have looked cool. He would have had a shave and a wash and a change of clothes. He would not have come in looking like he'd spent 80 days at sea. He would have come in looking like he was going out for dinner. That is part of the Desjoyeaux package. So cool," she said.
For Desjoyeaux, he now gets a chance to return to his wife and three children. But, undoubtedly the question will soon arise: after an intense decade of amazing long-distance solo performances -- will he be back for another?
E-mail to a friend