(CNN) -- England's Kevin Pietersen and Andrew Flintoff have become the highest-priced players in the Indian Premier League after being bought for $1.55 million each.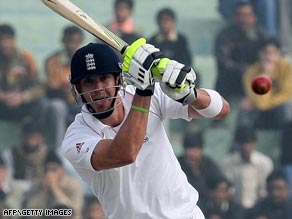 England Test star Kevin Pietersen and team-mate Andrew Flintoff have won huge IPL contracts.
Friday's auction saw the world's richest Twenty20 league's eight teams bidding to take on 17 players from a list of 42.
Batting star Pietersen and all-rounder Flintoff, both former England captains, easily exceeded their reserve prices of $1.35 million and $950,000 respectively.
Pietersen was picked up by the league's bottom side -- the Bangalore Royal Challengers -- while Flintoff is headed for the third-rated Chennai Super Kings.
Both will only receive half of their massive fees in their first year because of being available for only three of the six weeks of the tournament.
Pietersen, who with Flintoff is playing a Test match in Jamaica against West Indies, was stunned by the price he fetched.
"It's an unbelievable amount of money and I can't wait to get out there," he told Press Association.
The Challengers' owner, billionaire Vijay Mallya, told the IPL's official Web site that he had always been keen on Pietersen.
"He would be a superb addition to the team. We had a list of players before the auction and KP [Pietersen] topped that list. We needed to strengthen our batting and I was prepared to pay more for him.
"It is a worthwhile investment and ensures the balance that we wanted in our team," Mallya said.
Flintoff said he wanted to concentrate on the Test series before turning his mind to the IPL.
"I am very pleased. However, I am here playing a Test match, so my mind is full of that and the IPL is in six weeks' time.
"It's not been in the back of my mind on tour, I just regard it as a massive bonus."
A third former England captain, Paul Collingwood, sold for $275,000, just above his reserve price of $250,000.
England's Test stars have been given a three-week window to appear in the tournament which takes place from April 10 to May 29.
They did not take part in the inaugural competition last year because of a clash with the early summer Test series against New Zealand.
Players given an IPL contract are paid on a pro-rata basis.
South Africa's JP Duminy amd the Australian fast bowler Shaun Tait also attracted keen interest in the sale.
The Mumbai Indians picked Duminy up for $950,000 -- $650,000 more than his reserve price -- and Tait went to the Rajasthan Royals for $375,000.
The huge salaries underline the commercial success of the Indian Premier League which was launched to huge fanfare last year, but has raised fears among traditional cricket supporters that it could undermine the status of Test cricket.
E-mail to a friend