(CNN) -- Belgian cyclist Frederiek Nolf was found dead in his hotel room in Doha hours before he was scheduled to compete in Thursday's fifth and penultimate stage of the Tour of Qatar.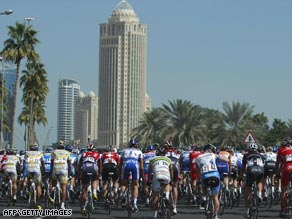 Riders in the fourth stage of the Tour of Qatar that has been rocked by the death of Belgian Frederiek Nolf.
Room-mate Kristof Goddaert alerted the team's sporting director when he could not wake the 21-year-old Topsport-Vlaanderen-Mercator rider. The cause of death is not yet known.
The Qatar Cycling Federation "express their condolences to the family of the rider as well as to his team" who have now withdrawn from the event.
According to the official Web site a meeting took place between the sporting directors of the teams to consider their options for the final two days of the race.
"A decision was taken to neutralise the day's stage. The riders therefore went, in procession, from the Camel Race Track to the Qatar Foundation," said the Web site.
Nolf, who turned professional last year, was competing in his first event of the season and team manager Christophe Sercu said he was not aware of the rider experiencing any health problems.
Eddy Merckx, the Belgian five-time Tour de France winner who is part of the team's management said: "Our thoughts are with Frederiek's family, his girlfriend and his mates."
Britain's four-time Tour de France stage winner Mark Cavendish had claimed Wednesday's fourth stage with a blistering burst.
Stage three winner Tom Boonen of Quick Step leads overall by 10 seconds from Roger Hammond.
Nolf was 96th in the overall race standings after the fourth stage, four place behind Britain's Belgian-born Olympic gold medalist Bradley Wiggins.
E-mail to a friend