(CNN) -- Pittsburgh Steelers snatched a record sixth Super Bowl title when Santonio Holmes scored a dramatic late touchdown for a 27-23 win over the Arizona Cardinals at the Raymond James Stadium in Tampa, Florida.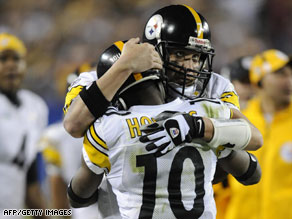 The Steelers' Santonio Holmes, in the 10 shirt, embraces another player.
There were just 35 seconds left on the clock on Sunday when quarterback Ben Roethlisberger found Santonio Holmes in the back right corner of the end zone after driving the Steelers some 78 yards.
Holmes, later voted Most Valuable Player after catching nine passes for 131 yards, somehow managed to keep his feet in play and dived over the line.
Holmes never had any doubts, but Steelers were made to wait for confirmation that the score was legitimate as officials viewed video replays.
Brave Arizona had battled back from a 13-point fourth-quarter deficit with 16 points in under five minutes to lead 23-20 with 2 minutes 37 seconds remaining.
"This will go down as one of the greatest games ever played," said Holmes as confetti rained down on him at the conclusion. "The greatest Super Bowl ever."
The Steelers, who triumphed in 2006 having won four titles in six years in the 1970s, have now moved clear of five-times champions Dallas and San Francisco.
Victory also meant a place in the record books for 36-year-old Mike Tomlin who became the youngest head coach ever to win the Super Bowl.
"I'm not concerned about personal milestones," Tomlin said. "I'm concerned about adding to the Steelers legacy."
Roethlisberger, who joined Hall of Famer Troy Aikman and New England's Tom Brady in becoming the third quarterback to win two Super Bowls in his first five seasons, thought he had scored after five minutes.
Replays, however, showed he grounded before the ball crossed the line, but he was celebrating later as he relived his match-winning throw for Holmes.
"The first read was the running back in the flat, but he wasn't open," Roethlisberger told the Washington Times.
"Then I was going to bang it to Hines (Ward) real quick, but someone was closing... I looked back, scrambled right a little bit and saw (Holmes) in the corner. I tried to throw it high... and luckily he made a heck of a catch."
Holmes added: "I knew it was a touchdown 100 percent. My feet never left the ground. All I did was extend my arms and use my toes as extra extension to catch the ball."
Earlier the Pittsburgh highlight was a record 100-yard interception score by linebacker James Harrison on the stroke of half-time to end the longest play in Super Bowl history, giving Steelers a 17-7 halftime lead.
E-mail to a friend