(CNN) -- Roger Federer will go in search of his 14th grand slam title on Sunday without a hint of complacency despite opponent Rafael Nadal's marathon effort in the semifinals.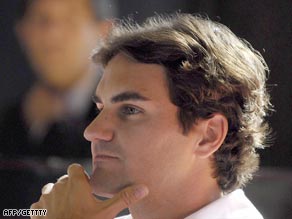 Federer is contemplating another epic encounter against Nadal in the final on Sunday.
Many expect Federer will have an easy ride after the world number one was detained on court for a record five hours and 14 minutes by fellow Spaniard Fernando Verdasco, but he is not fooled.
"I don't think Rafa will struggle too much to get over this kind of a match," Federer told the official tournament Web site www.australianopen.com.
"He's had an easy tournament so far. This was the tough one. I'm sure he's going to get over it," said Federer who had a relatively easy straight sets win over Andy Roddick on Thursday night.
Instead Swiss maestro Federer is focused on matching Pete Sampras' all-time record for grand slam wins and avenging his defeat to Nadal in last year's Wimbledon final.
"It's an unbelievable opportunity for me, of course, not being number one anymore, trying to beat the number one in the world and getting the 14th grand slam," he said.
"This is where I won the grand slam to become number one in the world back in 2004, so I've always had a special liaison with this tournament.
"The stage is set for a great match. I hope we can live up to them like we did in Wimbledon."
World number two Federer has enjoyed an easy passage to his 18th grand slam final, apart from a scare against Tomas Berdych where he had to come from two sets behind to win in five, but knows it will be tight against Nadal.
"I think it's going to be a close match. I think he's playing well, so I'm looking forward to a great match and then hopefully equal Pete's record."
Nadal will become the first player since Andre Agassi to win grand slams on all three surfaces if he can beat Federer, but aware his match against Verdasco which finished in the early hours of Saturday morning may take its toll.
"I'm a little bit unlucky in that I don't know how I'm gonna be for the final," he said.
"But for sure, for me it is amazing to play another final of a grand slam. Here in Australia the first one."
E-mail to a friend