(CNN) -- It was business as usual as world champion Sebastien Loeb led after the first day of the Rally of Ireland on Friday -- the opening action of the 2009 season.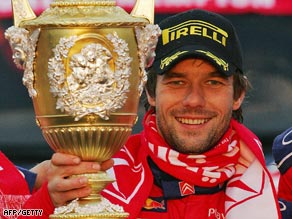 Loeb will be looking to win the world championship trophy for the sixth straight year.
The Frenchman was firmly in charge after six stages when organizers called off the final two special sections because heavy rain made it too dangerous to continue.
Parts of the route in Murlo and Fardross had standing water and others were flooded.
Loeb held a commanding 44-second lead over teammate Dani Sordo of Spain with Finn Mikko Hirvonen a further 20 seconds back.
Another Finn, Jari-Matti Latvala, led after the first stage by no less than 42 seconds from Loeb, but a double puncture forced him to retire on the second stage.
Latvala's Ford Focus teammate Urmo Aava of Estonia took up the mantle to lead after three stages but he drove his car into a ditch on the final stage of the day in appalling conditions.
It left Loeb, who won the Rally of Ireland when it last took place in 2007, a strong favorite to start this year's championship with a win.
He told Press Association that he was "very happy to have survived the first race.
"At the end of the third stage, I congratulated myself that I was still there with Daniel (Elena, his co-pilot), because driving was impossible, particularly in the first stage," he added.
Hirvonen, who was Loeb's closest title rival last season, moved up in the standings after Aava's crash.
"I'm trying to take the fight to Sordo but I stalled the engine at a junction on this one and that cost me some time. I'll keep on moving," he said.
Loeb is aiming for his sixth successive world title from the 21-car entry for this year's depleted championship.
Suzuki and Subaru pulled out due to the global economic downturn leaving Citroen and Ford as the only manufacturers in this year's WRC.
E-mail to a friend