London, England (CNN) -- Ricky Hatton is confident he can beat Manny Pacquiao, the world's best pound-for-pound fighter, after their on-off bout was finally confirmed for May 2 at the MGM Grand Hotel/Casino in Las Vegas -- following weeks of wrangling over the distribution of the purse.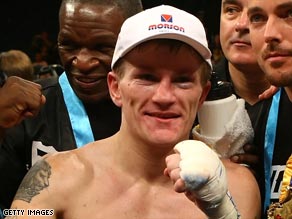 Hatton is confident he can beat Manny Pacquiao in their Las Vegas showdown on May 2.
Briton Hatton, currently the world's top light-welterweight, will face pound-for-pound king Pacquiao a year-and-a-half after losing to Floyd Mayweather Jr at the same venue.
"I am brimming full of confidence that I am going to win," the 30-year-old Hatton told a news conference. "I have always said at 10 stone I don't think anyone will beat me and I firmly believe that.
"I have challenged the best pound-for-pound fighter once in Floyd Mayweather -- obviously I came second -- but I am going to get another chance the fight the best pound-for-pound fighter."
Hatton's lawyer Gareth Williams said they had never deviated from the 50-50 split on the prize money agreed in the original deal.
"The reality was the actual negotiations were relatively straight forward," he said. "But at this time last week the fight was not going to take place.
"We never wavered from what was agreed. We didn't want to take anything away from Manny but we also recognized what Ricky brings to the table and as far as we are concerned Ricky is an equal contributor to this fight."
Hatton spoke of his relief that the fight was going ahead. "It has been a very difficult few weeks. We had agreed the deal so two weeks ago I was delighted," he said.
"I was devastated when I thought it was not going to be on and I told Gareth I didn't want to go back into training not knowing."
E-mail to a friend