(CNN) -- Serena Williams booked a semifinal clash with Russian Elena Dementieva at the Australian Open after officials took the heat out of her 5-7 7-5 6-1 win over Svetlana Kuznetsova by closing the Rod Laver Arena roof.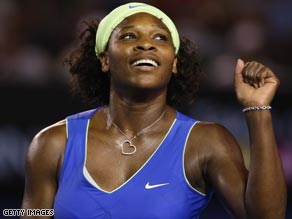 Serena strugged to cope with the conditions until officials closed the roof at the Rod Laver Arena.
Temperatures hit 40 degrees Celsius as eighth-seeded Kuznetsova won the opening set with her American rival looking far from comfortable in the sweltering conditions.
Kuznetsova was visibly annoyed when told the players would need to leave the court at the end of the first set when the roof was closed due to the implementation of the extreme heat policy.
Kuznetsova still had her chance to reach the last four when she unsuccessfully served for the match at 5-4 in the second set -- and lost her cool as the contest slipped away.
"Yeah I was definitely angry," she told a press conference. "Why should I not be? The game was going my way. I'm fine playing with the roof open.
"I think the guys yesterday had the same weather. Everybody was playing with the roof open. Why today they had to close it? I didn't get it, that was why I was angry. It's two different games. One you play inside, one you play outside. She (Serena) has a big serve. She was using it well when the roof was closed. I guess it was in her favor very much.
"Serena was tough. She's playing great and I give her credit. But I don't get this rule. Saying that, I still had my chance, even with roof closed. I was 5-4 up, serving for the match. I just didn't do that."
American second seed Williams, Melbourne winner in 2003, 2005 and 2007, admitted having the roof closed helped her.
Don't Miss
"It's really encouraging (to reach the semis) because this whole tournament I felt I've been off and I haven't been playing my best, especially to pull out that win today," added Williams,.
Dementieva was surprised the roof was not closed prior to the start of her 6-2 6-2 victory against Carla Suarez Navarro.
"The sun was pretty strong. Usually when you play at 11am it's not that strong but today it was a very dangerous sun and very strong," said Dementieva.
"I'm really surprised because when you see the forecast it's going to be 41 today, 43 tomorrow, the hottest week in a month, why not close the roof?"
Dementieva struggled with her serve throughout, serving 10 double faults -- four of them in an epic sixth game of the first set that went through 11 deuces.
E-mail to a friend