(CNN) -- Hosts Austria claimed a 1-2 in Tuesday's night slalom at Schladming with Reinfried Herbst getting the better of compatriot Manfred Pranger in difficult conditions to claim his second win of the season and fifth of his career.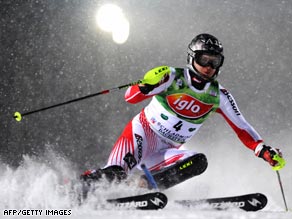 Herbst made light of the snowy conditions to claim victory in the Schladming night slalom.
Herbst, who also led after the opening leg, completed both runs on the Planai piste in a time of one minute, 37.32 seconds --1.16 seconds ahead of Pranger.
Ivica Kostelic of Croatia finished third, 1.23 seconds behind the winner, to extend his lead over Austrian Benjamin Raich in the overall World Cup standings.
France's Julien Lizeroux, the shock winner at Kitzbuhel 48 hours earlier, was disqualified on the first run, while compatriot Jean-Baptiste Grange, who chased him home at Kitzbuhel, failed to complete his second run.
Heavy snowfall made conditions tricky with only 25 of the 43 competitors managing to successfully complete both legs.
E-mail to a friend