(CNN) -- Shoaib Malik has been relieved of the Pakistan captaincy with batsman Younus Khan handed the job for an indefinite period, the Pakistan Cricket Board (PCB) said on Tuesday .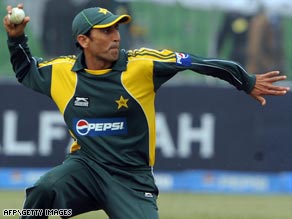 Younus Khan, above, has been appointed Pakistan captain after Shoaib Malik was relieved of the job.
The 26-year-old Malik was sacked after Pakistan suffered their worst one-day defeat by 234 runs in Saturday's final one-day international that handed Sri Lanka a 2-1 series win.
There had been strong calls last year from former players, including Inzamam-ul Haq and Zaheer Abbas, for Malik to be sacked, but the PCB instead renewed his term at the start of January.
"Malik has accepted a request to step down after the Sri Lanka defeat," PCB chairman Ijaz Butt told reporters. "We have appointed Younus as the new captain for an indefinite period."
The 31-year-old Younus' first task will be a two-match Test series against Sri Lanka, starting in mid-February.
Under Malik, Pakistan lost a Test and ODI series away in India and at home against South Africa before they embarked on a 16-match ODI winning streak.
England received positive news on the fitness of key all-rounder Andrew Flintoff after an MRI scan revealed no major damage in his left side leaving him clear to carry on with the tour of West Indies.
Flintoff, 31, made a round trip to Jamaica on Monday, accompanied by team doctor Mike Stone, after complaining of a side strain.
The scan results, assessed back in the UK by the England and Wales Cricket Board's chief medical officer Nick Peirce, proved encouraging at the start of England's four-Test series.
Flintoff, whose international comeback last summer was delayed by a similar injury, will now be monitored ahead of Thursday's first-class fixture against West Indies A at Warner Park.
"The scan showed no major damage and we will continue to assess Andrew on a daily basis," said an England team spokesman. "We haven't made a decision yet as to whether he is available for the next three-day game."
Owais Shah was undergoing further medical checks on a scratched cornea. Shah hit an unbeaten 125 on the opening day of the tour while the first Test begins at Sabina Park, Jamaica, next week.
E-mail to a friend