(CNN) -- American Andy Roddick faces an Australian Open semifinal showdown against record-chasing Roger Federer who thrashed Juan Martin del Potro 6-3 6-0 6-0 on Tuesday.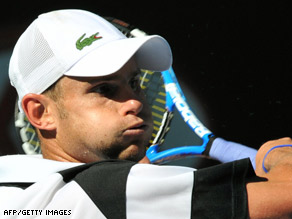 Roddick reached his fourth Australian Open semifinal where he will face record-chasing Roger Federer.
Revitalised Roddick advanced to the last four when champion Novak Djokovic quit their match after struggling in the heat of Melbourne.
He now represents the penultimate hurdle as Federer chases a 14th Grand Slam title to equal the haul of U.S. legend Pete Sampras.
"I didn't expect a result like this. This is not usual," Federer said after 80 minutes on court. "I don't think Juan Martin was at his very best tonight, otherwise it would have been much closer."
Third-seeded Djokovic of Serbia was forced to pull out of the tournament in the fourth set when trailing 7-6 (3) 4-6 2-6 1-2 against Roddick whose only career 'major' came at the 2003 U.S. Open.
Temperatures in Melbourne were in the mid-30s Celsius (mid-90s Fahrenheit) on Tuesday.
With his victory, seventh-seeded Roddick has now reached the Australian Open semifinals four times.
Djokovic had called for a medical time out early in the third set and was clearly suffering distress.
"The main reason is cramping and soreness in the whole body," he explained later. "People could see that I was struggling with movement. I couldn't serve the way I served in the first two sets.
"I really tried my best, but sometimes you can't fight against your own body."
Roddick admitted: "I feel for Novak because he worked so hard to win the title and for him not to get a fair chance to defend it, it's too bad."
Djokovic's fourth round clash against Marcos Baghdatis on Sunday night ran into the early hours of Monday, but the third seed's request to play Roddick in a night match fell on deaf ears.
Swiss Federer made sure of an early night, hitting 12 aces and 38 winners as he mixed elegant ground strokes with sublime drop shots and passes to overwhelm his 20-year-old Argentine opponent.
"I just had a bad day. He's Roger Federer. If you aren't good, you lose. I played badly, but he did everything very well," Del Potro said.
Victory earned Federer a record 19th successive Grand Slam semifinal. "When all of a sudden it clicks, it's a nice feeling," he said.
E-mail to a friend