(CNN) -- World No. 2 Serena Williams took a shortcut to the last eight of the Australian Open on Monday after fourth round opponent Victoria Azarenka had to quit their match because she was feeling unwell.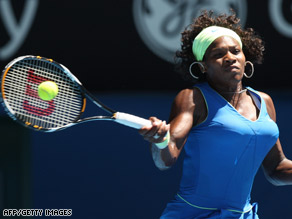 Serena Williams returns the ball to Victoria Azarenka in Melbourne Monday.
American Williams will now play No. 8 seed Svetlana Kuznetsova, of Russia, who spent even less time on court after her rival, No. 22 Zheng Jie of China, pulled out because of a hand injury after just five games.
The 19-year-old Azarenka of Belarus took the first set 6-3 off three-time Australian champion Serena, but at 3-2 down in the second the 13th seed took a medical time-out and left the court.
She returned to play another game and a half but was clearly distressed and had to be helped from Rod Laver Arena.
"I started really feeling sick in the morning and just felt weak," Azarenka said. "Once I got to the court, I went to see the doctor and I felt a little bit better throughout the first set and a little bit of the second but then I just had no more energy to go on."
Heading into her first quarterfinals at the Australian Open was fourth-seeded Russian Elena Dementieva who triumphed 6-2 6-2 against Dominika Cibulkova of Slovakia who had reached the fourth round without losing a set.
Dementieva shrugged off suggestions she is the favorite to win the women's title after extending her winning run to 14 matches.
With world number one Jelena Jankovic, fifth seed Ana Ivanovic and sixth seed Venus Williams all falling by the wayside, attention has turned to the Russian as a leading contender for the crown.
Third seed Dinara Safina reckons she is the one to beat. But Dementieva, who has already won warm-up tournaments in Auckland and Sydney, was less certain.
"I don't think so, because Dinara herself looks like she's in a good shape. She's made the biggest improvement since last year, so she's probably the favorite to win," the 27-year-old said.
"But there is still Serena, and there are a lot of good players here. It's going to be a tough competition. I'm not thinking who's the favorite; I'm just trying to take one match at a time and be focused and play my best."
Dementieva faces unheralded Carla Suarez Navarro in the quarterfinals after she overcame fellow Spaniard Anabel Medina Garrigues 6-3 6-2.
Suarez Navarro, who upset Venus Williams in the second round, has matched her best result in a grand slam after also reaching the last eight of the French Open last year.
"She's a very tough player. She plays a very unique style of game -- a lot of spin. It's going to be a tough match, I think, for me," Dementieva said.
"She had a very good win against Venus and was very solid today on the court. She's got a lot of talent and is physically very fit."
Suarez Navarro, ranked 46 in the world, believes her experience at Roland Garros, where she lost to Jelena Jankovic, will help her against Dementieva.
The action came a day after world number one Jelena Jankovic slumped out with a shock 6-1 6-4 fourth round loss to Marion Bartoli of France, dashing her bid to win her first Grand Slam tournament.
The 23-year-old Serb, who reached the top ranking at the end of 2008, made 15 unforced errors and had 17 winners -- the last stat being half that of former Wimbledon finalist Bartoli.
Jankovic had prepared for the Australian Open in the punishing heat of Mexico and hoped a title triumph would silence those who have questioned her right to the top spot without having won a Grand Slam title.
"I let her hit all the shots she wanted to," said Jankovic. "I let her play her game. I didn't do what I was supposed to. I couldn't get my rhythm out there."
E-mail to a friend

All About Grand Slam Tennis • Jelena Jankovic • Serbia