(CNN) -- British number one Andy Murray was bundled out of the Australian Open on Monday by 14th-seeded Fernando Verdasco whose 2-6 6-1 1-6 6-3 6-4 win puts him on course for an all-Spanish semifinal against Rafael Nadal.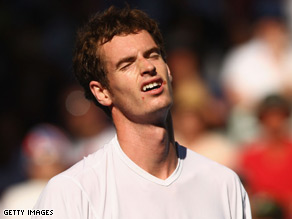 The frustration shows for Andy Murray as he battles Fernando Verdasco at Melbourne.
Top-seeded Nadal swept into the quarterfinals as the world number one saw off Fernando Gonzalez 6-3 6-2 6-4.
Murray, who was favorite to win the tournament despite being seeded only fourth, arrived in Melbourne unbeaten in 2009 and had not dropped a set in the tournament.
"My five-set record in the last two years has been great. I can't remember the last time I lost one," said Murray who had won his previous five matches against Verdasco.
"It wasn't a physical thing why I lost. Even after being sick for the last few days I thought I still came through the match well. He played too good for me. I'm not here to try to make excuses."
The Scotsman got off to a good start, but his hopes of a maiden grand slam title fell away as the match progressed despite huge support from fans.
Murray's confidence ebbed in the second set as the Spaniard broke him three times but he fought back to win the third with ease before losing the fourth as Verdasco took it to a decider.
Verdasco, who now faces fifth-seeded Jo-Wilfried Tsonga of France, said the confidence he gained from his success in the Davis Cup final against Argentina last November played a role in his victory.
He came from two sets to one down against Jose Acasuso to win in five sets and clinch the trophy for his country -- a occasion Nadal missed through injury.
"I was really thinking, when I lost the third set, about that match in the final that I was the same - two sets to one down," said Verdasco. "I was thinking that I can do it again. I just need to try my best.
"I think that that Davis Cup final made me much stronger mentally and this pre-season I was worked really hard too. So today, I really believed in myself that I could win the match, that I'd go to five sets."
Nadal will face Gilles Simon who reached his first Grand Slam quarterfinal when French compatriot Gael Monfils retired with a wrist injury.
"You never want to win like this," said the 24-year-old Simon who was leading 6-4 2-6 6-1 when the 12th seed quit.
Regarding his tactics against Nadal in the quarterfinal, Simon quipped: "I have to run five hours to win. I have no choice."
He added: "Usually I think that it's easier to play against them (the top players) because you really know what you have to do. You just have to play a perfect match to win. If it's not perfect, you lose."
Tsonga, runner-up a year ago to Novak Djokovic, beat No. 9 James Blake 6-4 6-4 7-6 in a match interrupted by Australia Day fireworks.
E-mail to a friend