(CNN) -- Frenchman Julien Lizeroux banked his first World Cup victory when he triumphed in the men's World Cup slalom at Kitzbuehel, Austria, on Sunday.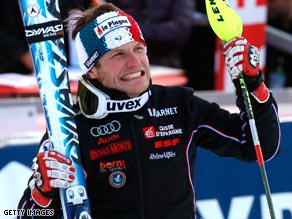 Elated Julien Lizeroux led a French one-two to claim the first podium place of his World Cup career.
The 29-year-old, who had never before been on the podium, finished ahead of compatriot Jean-Baptiste Grange and Patrick Thaler of Italy.
"It's unbelievable, I thought I was one of the outsiders after the first run," said Lizeroux who was seventh after the first leg.
"My coach told me to go for it on the second run. First podium, first victory, an incredible day. Every skiier wants to win the Kitzbuehel slalom."
The result was the first French one-two at Kitzbuehel since 1971, and Grange called it "a great day for French skiing".
"Julien's been looking for this victory for a long time," he added. "It's fantastic."
Grange consolidated his spot at the head of the World Cup slalom standings after his 12th career podium placing, which followed a disappointing run of form.
"I had some bad moments at Adelboden and Wengen," he said. "Here I felt better. I had a better balance on my skis. The three days' rest at the beginning of the week did me good."
The result also takes Grange up to third place in the overall standings, four points behind the Austrian Benjamin Raich.
Swiss skier Silvan Zurbriggen won the super-combined, which takes into account times from the slalom and Saturday's downhill, beating Croatian duo Ivica Kostelic and Natko Zrnic-Dim.
Austria's Kathrin Zetell won the women's World Cup giant slalom at Cortina d'Ampezzo, Italy, on Sunday to record her third victory of the season ahead of compatriots Michaela Kirchgasser and unlucky Elisabeth Goergl.
Zetell finished the two runs 1.39 seconds ahead of Kirchgasser with Goergl a further 0.32sec behind.
Goergl, who recorded the fastest first run, was on course to triumph when she fell at the last gate of the second run. She picked herself up to secure a podium spot.
"I could not avoid the hole, where I fell before the penultimate gate," she said. "I am disappointed because I was ahead, but I am still happy to have stayed on the course and to have finished third."
Zetell, who has already won at Solden and Semmering, took the overall lead in the World Cup giant slalom standings -- one ahead of Finland's Tanja Poutiainen.
American Lindsey Vonn finished 10th on Sunday but extended her lead in the overall standings over Germany's Maria Riesch, who exited in the first leg.
Jessica Lindell-Vikarby of Sweden celebrated the first victory of her career in Monday's World Cup Super-G at the Italian venue.
Lindell-Vikarby clocked one minute 25.13 seconds -- 00.81 secs better than Austrian runner-up Anna Fenninger and 00.87 secs faster than Swiss Andrea Dettling.
The 24-year-old Swede's only previous appearance on a World Cup podium came at Lake Louis 13 months ago when she finished third in a Super-G.
"What happened today is a dream," said Lindell-Vikarby. "I was a bit nervous because I had to wait for the best skiers to go down."
It was also memorable for Fenniger and Dettling who both finished in the top three for the first time.
E-mail to a friend