(CNN) -- Lance Armstrong finished tucked in the main bunch again as Australian Allan Davis all but wrapped up overall victory in the Tour Down Under with victory on the fifth stage.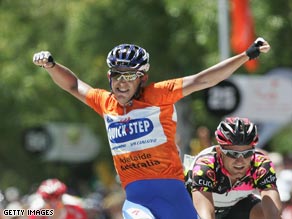 Davis celebrates his fifth stage victory and third of the Tour Down Under.
Quick Step sprinter Davis claimed his third win of the Pro-Tour event and holds a 25-second lead going into Sunday's final 90 kilometer circuit race in Adelaide.
"Absolutely unbelievable, I wouldn't be here without my team," Davis was quoted on the official race Web site www.tourdownunder.com.
"It's been another amazing day with the crowds. I just can't believe how well the event has gone. Thank you."
Thousands packed the roads on the 143 kilometer stage from Snapper Point to Willunga, many hoping to catch a glimpse of seven-time Tour de France winner Armstrong.
Riding his first race for three and a half years, Armstrong has been content to stay out of the bunch sprints but appeared at the head of the field briefly on Saturday to help chase down a break.
After coming in 23rd in the same time as the winner, the American superstar admitted he still has some way to go to find his best form.
"I didn't have the needed punch to make a difference, but we were there and, I guess, going in that's what I kind of hoped for, so no complaints," he said.
The 37-year-old lies 29th in the overall standings and will next test his form in the Tour of California next month.
Armstrong, who is promoting the fight against cancer in his comeback with Astana, has an eighth Tour de France win in his sights in July.
E-mail to a friend