(CNN) -- Holder Novak Djokovic is through to the last 16 of the Australian Open at Melbourne Park, but the Serb's four-set victory over Amer Delic was marred by crowd disturbances between fans of both players.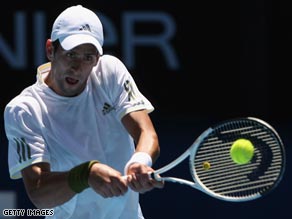 Djokovic is through to the last 16 in Melbourne, but his victory over Amer Dilic was marred by crowd trouble.
Delic, a Bosnia-born naturalised American, had issued a plea before the match for fans to behave themselves and treat Djokovic and his Serbian supporters with respect after fans taunted each other during a previous match between Janko Tipsarevic of Serbia and Croatia's Marin Cilic.
However, while fans inside the Rod Laver Arena were well behaved, rival supporters watching the match on the big screen in the garden area of Melbourne Park threw plastic bottles and chairs at each other after Djokovic's 6-2 4-6 6-3 7-6 win.
One woman was hit by a chair, although she was not badly hurt, and 30 people were ejected from Melbourne Park. Two were charged with riotous behavior and discharging a missile, while one received an on-the-spot fine.
"I'm really sad to hear about the trouble," Delic told a press conference after the match. "As I said a couple of days ago, there's absolutely no place for that here. This is a tennis match.
"As I'm sure you all saw at the end, Novak and I are friends. We're both competitors, obviously. In the end it was a fair match and there was no reason for such things to happen."
Inspector Chris Duthie of Victoria Police said the police had dealt with the incident "quickly and effectively".
Don't Miss
"We have an effective police unit here at the moment," he said. "It's something that occurred. We can't stop everything happening but again we will make sure that this sort of behavior doesn't happen."
Two rival supporters were kicked out for scuffling in a bar following Tipsarevic's loss to Cilic on Wednesday, while two years ago the Australian Open was marred by violent clashes between more than 100 Croatian and Serbian fans.
Of the match, Djokovic told a press conference: "I need some matches like this to feel really what a Grand Slam is all about.
"I didn't really plan to be that long on the court, of course as you always want to finish the job as soon as possible. But as I said, the positive thing is that I got more time out there, and I'm looking forward to the upcoming match."
Elsewhere, second seed Roger Federer was in impressive form as he dispatched former Melbourne champion and 26th seed Marat Safin of Russia 6-3 6-2 7-6, while seventh seed Andy Roddick beat Fabrice Santoro, at 36 the oldest player in the men's draw, 6-3 6-4 6-2.
The American will now face Spaniard Tommy Robredo in the fourth round after the 21st seed easily overcame Yen-Hsun Lu 6-1 6-3 6-2.
Lu upset number 10 seed David Nalbandian in a thrilling five-setter in the previous round but the match on Show Court Two was one step too far for the 25-year-old.
There was a minor surprise when Croatian Marin Cilic, seeded 19, reached the last 16 with a 7-6 6-3 6-4 win over 11th seed David Ferrer. He will now face eighth-seeded Argentine Juan Martin Del Potro for a quarterfinal place.
E-mail to a friend