(CNN) -- England rugby union prop Matt Stevens has been suspended from all competition following a failed drugs test, the Rugby Football Union said on Tuesday.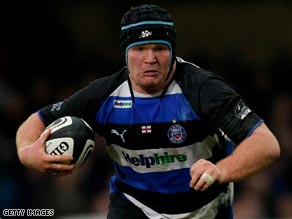 Matt Stevens tested positive after Bath's Heineken Cup match against Glasgow Warriors in December.
The 26-year-old Bath player was scheduled to feature in the forthcoming Six Nations tournament, but has now been removed from England's 32-strong elite squad that leaves for a training camp in Portugal on Sunday.
Stevens' positive test came after the Heineken Cup match against Glasgow Warriors in December and his anguish was clear to see when he spoke to Sky Sports News.
"I was tested for a prohibited substance but it's not performance enhancing, so you can take what you want from that," Stevens told the Sky channel.
"It's pretty distressing talking about this. When you think about how much time people have put into my career and I have thrown it away.
"Like any drug problem you don't know it's happening and then it mounts up and before you know it you have a problem and an illness."
Regarding his habit, South Africa-born Stevens explained: "It started off with just a couple of nights where you take it after a big night out with your friends.
"It wasn't a big deal, (but) that's the problem with drugs, it so quickly becomes a big deal.
"I owe it to everyone to admit that. I want to say I'm truly very sorry. I want to change my life and hopefully one day get the faith back that people had in me."
A Rugby Football Union statement read: "The Rugby Football Union has been made aware by European Rugby Cup (Ltd) of the positive doping test given by Matt Stevens following the Heineken Cup match against Glasgow Warriors in December 2008.
"The procedure for potential doping offences is clearly laid out in the ERC Regulations and as such the player is immediately provisionally suspended from all competition.
"Matt has been removed from the England Elite Player Squad and will not travel to the training camp in Portugal on Sunday or be involved in the squad until the resolution of the case when a further decision on his inclusion in the England squad will be made.
"A decision on a replacement for Matt in the EPS squad is being considered by England Team Manager Martin Johnson and an announcement will be made in due course."
Professional Rugby Players Association CEO Damian Hopley admitted: "We are shocked by this news, which is very out of character for Matt.
"He had built a reputation as a fine ambassador for the game, who does a tremendous amount of voluntary work for a number of charities and good causes.
"We will be doing everything we can to provide Matt with the support he needs at this very difficult time.
"The PRA and our members strongly condemn the use of performance enhancing or recreational drugs, and fully support the RFU and IRB anti-doping regulations."
Stevens, whose absence will be a blow for club and country, joined Bath in 2002 and signed a new four-year contract last year.
He won the first of his 32 England caps in 2004 and played at the 2007 World Cup after months on the sidelines following a shoulder operation the previous April.
E-mail to a friend