(CNN) -- Lance Armstrong said he felt "strong" after successfully completing the first stage of his comeback race in Australia.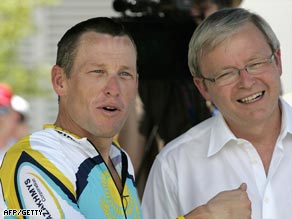 Armstrong shares a moment with Australian prime minister Kevin Rudd at the end of the first stage.
Astana's Armstrong was content to finish towards the rear of the 133-strong field as last year's Tour Down Under winner Andre Greipel of Germany won a bunch sprint with Australians Baden Cooke (UniSA) and Stuart O'Grady (Saxo Bank) finishing second and third.
But Armstrong showed enough on the 140 kilometer stage from Norwood to Mawson Hills in South Australia to indicate that his preparations for an eighth Tour de France victory are, for the moment, on track.
He admitted that his first full road stage in over three years had proved far from easy:
"The course combined with the temperature in the 40's it was tough. All in all with the steep hills I feel pretty strong," Armstrong was quoted on the race's official Web site.
The 37-year-old said he had no interest in contesting hazardous bunch sprints.
"I get right out of the way and let those big guys do their thing.
"It is nice to get one out of the way, tomorrow is a hard day and I want to take it day by day but the early indications are that I feel pretty good and strong. I will see how the recovery is, that is an important thing too," Armstrong added.
His appearance in the Tour Down Under has attracted massive media and spectator attention and after finishing he was seen speaking to Australian prime minister Kevin Rudd.
"We have never met, so it is always an honor, not just for myself, but for the race to have him here. We talked a little bit about cycling."
Armstrong said he would be getting up early on Wednesday to watch the inauguration of new American president Barack Obama.
"I'm excited and I think everyone in the United States is excited -- I see he's polling at 80 per cent approval rating. I wish I had those approval numbers."
Wednesday's second stage takes the riders 145 kilometers from Hahndorf to Stirling. The six-day race finishes in Adelaide on Sunday.
Armstrong announced in September last year that he would be returning to the saddle after a three-year break.
E-mail to a friend