(CNN) -- Elena Dementieva beat Dinara Safina 6-3 2-6 6-1 in an all-Russian final in Sydney to win her second straight WTA Tour title.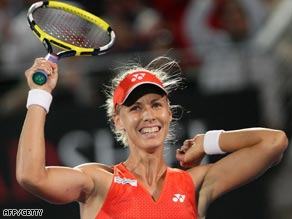 Dementieva will go into the Australian Open on the back of two tournament wins.
Third seed Dementieva, who beat Serena Williams in the semifinals, won her season-opening event in Auckland and goes into the Australian Open next week with confidence high.
Dementieva enjoyed a strong finish to 2008 after winning gold in Beijing and has won three of the last four tournaments she has contested.
The result in Friday's final was a repeat of the outcome in the Olympics with Dementieva taking an early advantage in the first set.
But second seed Safina then leveled as she showed the form which had taken her to the title showdown without the loss of a set.
However, it was Dementieva who dominated the decider, taking a 4-0 lead before Safina broke back to give herself some hope.
It was quickly snuffed out as 27-year-old Dementieva wrapped up victory in a shade under two hours.
She will begin her bid for her first grand slam at the Australian Open against Kristina Barrois of Germany as the draw was made on Friday.
Top-ranked Jelena Jankovic of Serbia plays Yvonne Meusburger of Austria, while second seed Serena Williams takes on Yuan Meng of China.
E-mail to a friend