(CNN) -- Ron Dennis has stunned Formula One by stepping down as McLaren team chief ahead of this year's championship.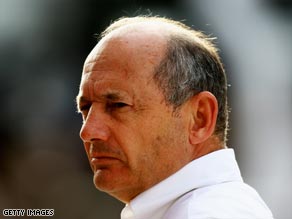 Dennis masterminded Lewis Hamilton's title success last season.
Dennis, who has been in charge of the British-based team since 1981, will hand over the reins to team stalwart and current chief executive officer Martin Whitmarsh.
He made the shock announcement at the launch of McLaren's new MP4-24 car which the team hope will power Lewis Hamilton to a second straight world title.
Dennis, who groomed Hamilton for Formula One stardom, said he would stand down on March 1.
"It's absolutely time for Martin to take over the job of team principal, so as of March 1, Martin will adopt that position," he told Press Association.
"I will still go to races -- not all of them -- because I am still passionate about Formula One.
"But don't see this as a form of retirement. It's very much the opposite because I will now be working harder in other areas.
"I will now take on more responsibility, greater responsibility, in certain key areas of the group," added Dennis, who will stay on as executive chairman of McLaren.
Dennis' shock news came after Britain's Hamilton delivered the thumbs up to the new car and outlined his hopes of retaining the title he won in such dramatic fashion in the final race of last season.
"I don't see the fact that I am world champion will add to the pressure on my shoulders for next season," said Hamilton.
"I've obviously a little bit of extra confidence and I've reset my goals, reset my targets back to when I started out in Formula One and that's to be world champion."
Hamilton's title win last season was McLaren's first since 1999 and came the season after the team were fined a record $100 million in Formula One's "spying" scandal.
He paid his own tribute to Dennis in reaction to the announcement.
"Ron is a huge part of the team," said Hamilton.
"He has racing in his blood, so he will never leave. He will always play a part, and I will always remain close to him.
"I've known him since I was 10. We have a great relationship, and he has made a huge impact on my life - and he still does today - and we are great friends."
E-mail to a friend