CNN) -- Haile Gebrselassie's attempt on his own world record came up short after inclement weather conditions hit Friday's Dubai marathon.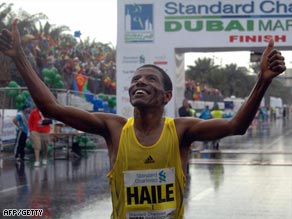 Gebrselassie crosses the finish line in damp and windy conditions in Dubai.
The Ethiopian superstar enjoyed perfect preparation for his latest record bid, but torrential rain held him up in the closing stages.
Despite the conditions, Gebrselassie still won in a fast time of two hours five minutes and 29 seconds, 90 seconds outside the mark he set in Berlin last year.
He came home over two minutes ahead of his compatriots Deressa Chimsa and Esheta Wendimu as he recorded his fourth fastest time.
The 35-year-old two-time Olympic 10,000 meters champion has set 26 world bets during his phenomenal career but conditions made a 27th impossible.
"It's not just the rain from the sky, it's the water on the asphalt," Gebrselassie told Press Association.
"I knew after halfway when we turned back, and felt the wind, and saw the rainclouds, it was gone."
Dubai organizers had offered a $1 million bonus for a world record but he still picked up $250,000.
Gebrselassie, who skipped the Bejing Olympics due to pollution fears, will next run the marathon distance as he returns to Berlin next September.
He told reporters that he would not be competing at the world athletics championships in the German capital the month before.
Ethiopia's Bezunesh Bekele won the women's race ahead of compatriot Altsede Habtamu and Kenya's Helena Kiprop in two hours 24 minutes and two seconds.
E-mail to a friend