(CNN) -- Australian opener Matthew Hayden walked away from cricket with "zero regrets" after the 37-year-old announced his decision to quit at a press conference in Brisbane.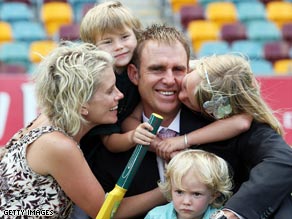 Hayden is supported by wife Kellie, sons Joshua and Thomas and daughter Grace after quitting cricket.
Hayden made an emotional farewell with a lap of honor in front of his home crowd at the Gabba between innings in the Twenty20 international between Australia and South Africa.
"It's been very unique and special to be here with my family and all the people that have supported me along the way," he told Sky Sports 1, standing pitchside with his wife and three children.
"It's been a hell of a journey -- it ends here tonight. It casts off in a new direction of life as well. This little tribe here is exactly what makes the decision not easy but decisive."
Hayden, who played 103 Tests, struggled to make an impact in the five-day arena this summer against New Zealand and South Africa at home, scoring just 149 runs at 16.55 from five matches.
He admitted he considered playing on to try to prove critics wrong, but decided the time was right to call it a day on both the international and domestic front.
"The game has been incredible to me, incredible to my family. And you've seen today the amazing support I've had -- not just from Queenslanders but right around Australia. No regrets," he said.
"I've tried to extract every ounce of ability I've been given and with the help of my beautiful family they've given me the opportunity to launch into that for the last 14 years."
The decision comes after the veteran opener was dropped from Australia's one-day and Twenty20 squads for the current series against the Proteas.
He originally hoped to push on for the tour to South Africa next month and the Ashes in England later this year.
Flanked by Australia Test captain Ricky Ponting, Hayden said that he was now ready to move on to the next stage of his life.
"Today, I am announcing my retirement from competitive cricket, effective immediately," he said. "I have lived the dream and loved every minute of representing Australia and Queensland -- there's zero regrets when it comes to my cricket performance.
"I feel privileged to have been in a position where I've had longevity because I've experienced the enormity of the experience in the longer term."
Hayden said it had been an honor to represent his country over the past 15 years while Ponting led the tributes for the opener who scored 8,625 Test runs at an average of 50.73.
The Australia skipper was full of admiration for the Queenslander and admitted his influence off the pitch would be sorely missed.
"Taking his 30 Test hundreds out of it and his average of 50 and all that, he's a massive loss for our dressing room, there's no doubt about that," said Ponting who rates Hayden Australia's best opener.
"I don't think there is any doubt about that," he said. "You can even look back through the history books of the game and try and see if there has ever been a better opening batsman in the game, let alone Australia."
E-mail to a friend