(CNN) -- Spaniard Carlos Sainz extended his dominance of the Dakar Rally by taking the ninth special stage -- his third in succession -- in his Volkswagen on Monday.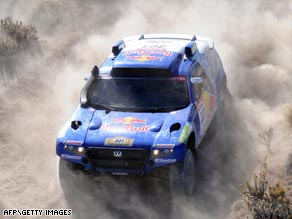 Twice world champion Carlos Sainz of Spain has claimed his fifth stage victory of the Dakar Rally.
The twice world rally champion completed the La Serena-Copiaco stage in five hours, 56 minutes and eight seconds, putting him one minute and 47 seconds ahead of North American Mike Miller.
"This special was very hard," said Sainz on autosport.com. "Very, very, very hard with lots of rocks and with difficult navigation. Really complicated.
"Being here today is a victory. We'll see what happens later, but it was a difficult day."
Miller led for the majority of the stage, but suffered problems with the steering and a wheel 362 kilometers into the 449km route which cost him valuable time.
"We have been waiting for a year for this stage," said Miller. "We caught Carlos after 60km and we overtook him after around 150km. Things were going quite well.
"The track was difficult to find and there were big boulders and I hit one on the right, I didn't even see it and it broke the steering so we had to stop and fix the steering and at the same time fix a wheel that broke. But it was a really, really fun day."
Sainz, whose stage victory was his fifth in this year's race, which is being staged in Argentina and Chile, also remained the overall leader, nine minutes and 52 seconds ahead of VW team-mate Miller.
In the bike category, Spaniard Fran Coma (KTM) retained top spot after finishing third in the ninth stage, behind Dutch winner Frans Verhoeven (KTM), who finished in six hours, 26 minutes and 33 seconds for his second victory of this year's race.
Coma comfortably leads the overall standings with a time of 37:04.47, more than an hour ahead of his nearest challenger, David Fretigne of Yamaha, who was second in today's phase.
Holder Cyril Despres (KTM) from France ended fifth to keep alive his title challenge and is third overall in the standings.
E-mail to a friend