(CNN) -- Ferrari launched their latest Formula One car -- the F60 -- on Monday hoping it will help the Italian team celebrate the 60th anniversary of F1 with a title triumph.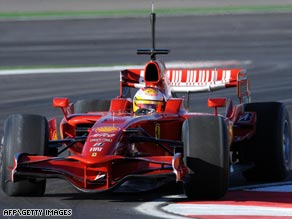 Ferrari are determined to celebrate the 60th anniversary of F1 by reclaiming the driver's crown in their new F60.
Team boss Stefano Domenicali underlined the significance of the car's name at the Mugello circuit where Felipe Massa was behind the wheel for the first time.
"We wanted to celebrate the fact that Ferrari is the only team to have always been in the World Championships," said Domenicali. "The history of Formula One is twinned with the history of Ferrari. For us F1 is our life -- our aim is to stay at the top."
Brazilian Massa was denied the driver's crown by McLaren's Lewis Hamilton in the final race of last season in Sao Paulo.
The 2009 campaign will see the introduction of a kinetic energy recovery system (Kers), designed to give cars an optional energy boost.
After completing approximately 100 kilometers in the F60, Massa was happy with the new technology.
"The car is completely different to what we were used to up to last year," he said. "Today was not the day to do 100 laps and post times because when the rules change so greatly from one year to another, like KERS, for example, you have a completely different feeling for driving the car.
"Today we resolved little problems that arise on the first day, but I am quite happy to do 100 kilometers and use KERS, which was the most worrying aspect of today.
"In the end, we used it a little to start with and gradually increased the power and this is very positive."
Like everybody else in F1, Massa is on a learning curve. "At the moment, we are at the start of a different cycle in Formula One and it won't be an easy experience," he said. "But I am convinced we can be competitive again."
Ferrari retained the constructor's championship in 2008, but F1 is entering a new era with cost-cutting measures and rule amendments set to change the landscape of motor sport.
"This is a very significant moment as we are giving a very strong input on how the future of Formula One should be," Domenicali added. "What we are aiming for is the common good.
"The unity among teams that we have seen in recent months is unprecedented, but totally necessary. We live from and for Formula One so compromises have got to be made.
"We know we are standing before a very challenging season and one which will be very stimulating in every sense, from the political to the technical."
Ferrari tested their Kers system for the first time at Mugello and Domenicali admitted even he was still in the dark about what advantages -- if any -- it may bring.
However, he confirmed that Ferrari would try to win the "technological battle" to get the most out of Kers, even if he still has reservations about the inherent "contradiction" in introducing an expensive new system while trying to reduce costs.
"If Kers can really be beneficially in certain situations, then we really have to exploit it," he said.
Aerodynamic changes designed to make the sport more appealing have been agreed by the Overtaking Working Group (OWG), substantially altering the front wing of all cars.
"Drivers will have to get used to it because the dimensions are different, so perhaps the drivers could have a bigger impact," claimed Domenicali. "We have got to understand the best way of dealing with them (the changes)."
Trying to reduce the aspect of human error is another challenge facing Ferrari after pit lane problems cost Ferrari dearly.
"We must try to improve the areas where last year we were not 100%," Domesicali admitted. "We have strengthened our mechanical team and we need to try to stimulate people and keep our concentration.
"Our top priority is reliability because that is what let us down last year. That also includes procedural reliability, although we cannot guarantee that human errors can be totally eliminated.
"In a way, that is what gives Formula One its human side. It is impossible to think that drivers cannot make errors.
"But to work on this is part of being number one at all levels."
E-mail to a friend