(CNN) -- Seven-time Tour de France winner Lance Armstrong reckons he is fitter now than at the peak of his career, but dismisses his chances of winning next week's Tour Down Under in the heat of Adelaide.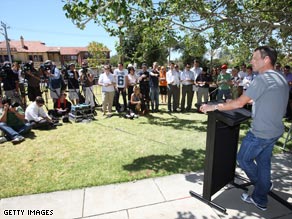 Armstrong told media in Australia that it would be unrealistic to expect him to win his comeback race.
Armstrong, who spoke to a large media throng in South Australia on Monday, said he wants to be a 'strong' rider in his comeback race and has spent the past three months preparing for the cycling season.
"If you consider November, December, January preparation I've prepared much harder this series of months than I ever would've in the past," Armstrong said.
"The tests that we do on the bike or on the road or in the lab indicate that my January fitness is much better than it ever was when I was winning the Tour (de France).
"That doesn't mean anything until you get in a race or anything in regards to the bigger tours until you get there."
Despite his preparation, the 37-year-old added he may not be the ideal rider to triumph at the South Australian event.
"I think it would be unrealistic to expect a victory, especially an event, if you look at the past winners ... many times this event has come down to field sprints and time bonuses and other results like that," he said.
"The course is probably more suited to a sprinter or somebody who is super, super fit right now but again I hope to be in the mix and I could be completely wrong, I could be the first guy dropped.
"I've worked hard to get in shape, I worked hard to show up here and try and ride at the front. But as I said to someone earlier today when you are one man out of 200 it's strange how sometimes 199 other guys really dictate how your day goes."
The American insisted there was more to competing in a road race than having a good fitness base.
"It's not just about the physical conditioning, it's about what does it feel like when 200 guys go down the road and go around dangerous corners at 40-50 miles per hour, how does that feel," he said.
"That's a dynamic that you can't simulate in training. These are the things that most people look at and think we're nuts to do that. I've got to get back into that space."
Armstrong, who won a battle with prostate cancer 12 years ago, was also unsure how he would perform in Adelaide's summer conditions.
"The heat is a factor. If you consider any endurance event, anything above 20 degrees does not suit optimal performance, so you have to consider all of the things like hydration, nutrition all those things come into it," he said.
"I've had really bad days in the heat and really amazing days in the freezing rain so most people look at that and say the heat is an issue for me."
E-mail to a friend