(CNN) -- New captain Andrew Strauss is hoping to unite the England squad once again following the public fall from grace of Kevin Pietersen.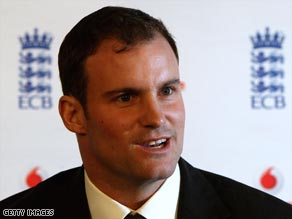 Strauss has vowed to bring some stability to the squad after being unveiled as England cricket captain.
Strauss, 31, will try to sort out the mess that led to Pietersen resigning on Wednesday, including how to accommodate his predecessor in the team, while stamping his authority on a role he previously held in a temporary capacity.
Although Pietersen has intimated his desire to continue his international career uninterrupted following the developments this week, he released a curious statement on Thursday.
"In light of recent events between the England and Wales Cricket Board (ECB) and myself, I'm going to take some time out to reflect on the situation and spend time with family and friends," revealed the statement.
Earlier, Strauss, a safe pair of hands for the ECB to turn to and a man former coach Duncan Fletcher used to call a solid citizen of the dressing room, spoke confidently about the 28-year-old's commitment to the team.
But there are dressing room relationships to address with urgency after Pietersen's relationship breakdown with coach Peter Moores -- who was sacked on Wednesday -- exposed disharmony within the England set-up.
Stung by a lack of support from his colleagues and bosses alike over an ultimatum to remove Moores as coach, bridges will need mending as Pietersen returns to the ranks after only three Tests and five months in charge.
"We all know what a quality player KP is and I back him to score runs consistently any time," said Strauss, at his Lord's unveiling.
"Clearly he is a vitally important part of the team and we need to make sure that he is comfortable within the team environment and that any issues that need to be dealt with between players are dealt with.
Don't Miss
"The reality is it is going to take some effort on all people's behalves. You are not going to walk into that dressing room and everything be hunky dory. But if you look at it from a point of view that this England team has got to go out and perform well then I am sure the players will come together.
"All the players need to get into a room together at some stage, for all sorts of reasons: for me to be able to lay down what I believe is the way forward, for the management team to be able to have their view on things and for people to be clear in their minds what we are going to be about as an England team."
Strauss, who previously led England during the four-Test series against Pakistan in 2006 as a fill-in for the injured Michael Vaughan, contacted Pietersen after being offered the position.
"I have spoken to Kevin a couple of times already," Strauss confirmed. "It's been a very tough situation, he has some stuff to deal with at the moment, and I fully believe everything he did as the England captain he did because he thought it was the best thing for the England cricket team.
"I know him well, he's a good mate of mine, and he has said he will support me. I truly believe he will do. Clearly it is a tough situation for him and he will have his own side of the story.
"I have got no problems with him as a player and it is fantastic we have such an incredible, world-class player in our side. It is important we get the best out of him and I believe I can work with him very closely."
E-mail to a friend