(CNN) -- Russian Nikolay Davydenko has withdrawn from this month's Australian Open due to an inflammation of the left heel, the official ATP Tour Web site has reported.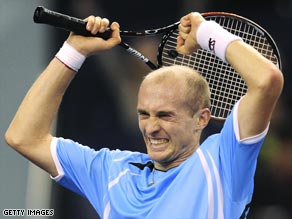 A painful heel injury has ruled Davydenko out of the Australian Open later this month.
The world number five will miss the first grand slam of the season in Melbourne after opting to pull out of this week's tournament in Chennai, where he was the top seed.
"The first time I felt this pain was during the Kremlin Cup in Moscow [in October 2008]," explained Davydenko, who was competing in Chennai for the first time since 2001.
"Whenever I take a few days off it starts getting better. But as soon as I've played a match the pain comes back.
Don't Miss
"I got pain killers but it still was very painful. I cannot imagine playing a match with this injury in Australia if I feel this bad after playing two sets here in Chennai.
"I will now fly home, see the doctors and do an MRI to get more information. My plan is to rest and try to play again in Rotterdam. It is very disappointing but as the doctors told me there's nothing you can do right now."
E-mail to a friend