By Mike Steere
For CNN






LONDON, England (CNN) -- French Vendee Globe sailor Jean Le Cam has been successfully rescued by a fellow competitor from his capsized yacht in the Pacific Ocean near Cape Horn.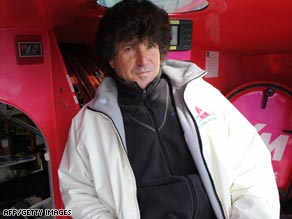 French sailor Jean Le Cam has been rescued from his capsized solo yacht, VM Materiaux, near Cape Horn.
A full-scale rescue mission was launched Tuesday after Le Cam activated his EPIRB (Emergency Position Indicating Radio Beacon) shortly after contacting land-based support crew saying he feared his solo-round-the-world yacht, VM Materiaux, was about to capsize.
Chilean search and rescue aircraft, a nearby freighter and tug, and fellow Vendee Globe racers all helped in the search.
Vendee Globe competitor and fellow Frenchman, Vincent Riou eventually made contact with Le Cam, who was trapped inside the damaged, upside-down vessel.
Although a tug was due to arrive Wednesday morning, Riou managed to rescue Le Cam by circling repeatedly around VM Materiaux and on the fourth attempt he picked up the skipper, who had exited his boat into the freezing waters using a survival suit.
However, on the final approach to save Le Cam, the end of the port outrigger on Riou's vessel, PRB, was damaged against the upturned keel fin.
Neither sailor was seriously hurt, but they had to work to stabilize PRB's mast and were at last report sailing slowly without a headsail.
Both skippers spoke with race organizers late on Tuesday.
The Vendée Globe safety consultant, Alain Gautier, said, "It's an incredible story that has a happy end."
Riou, who stopped his strong race progress for the rescue is still in fourth place in the overall standings, while Le Cam's exit makes him the 17th out of a starting list of 30 to have retired in this edition of the solo round-the-world race.
Michel Desjoyeaux, aboard Foncia, leads the race.
E-mail to a friend